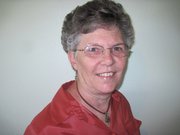 COTTONWOOD — Prairie Community Library has a new volunteer at the library. Her name is Melissa Wilson. She has lived in Cottonwood for three-and-one-half years with her family. Her hobbies are cross stitch, baking and volunteering her time for companionship with the elderly. Melissa has been busy helping the librarians plan the new children's section. Come in and meet Melissa and her beautiful smile.
Good job to the Keuterville people who put on a wonderful meal. We had to stop in and say "Hi" to Dewey and Linda while we were up there.
Greencreek ladies are asked to sign up for the Lewis County Soil and Water District Lunch set for Feb. 26. If you are interested in helping, contact Rhonda Wemhoff at 962-5458. Sign-up sheets are in the back of St. Anthony's Church.
Fr. Paul is having a special Mass for Valentine's Day at 6 p.m. on Feb. 14 at St. Anthony's Church in Greencreek. What better way to celebrate with the one you love than by going to this Mass and reciting your vows again. Then you may go have a nice dinner to end the day.
The Salmon River is iced up so fishing is poor right now. But all the snow we are getting should be helping the snowpack in the mountains. We were definitely short on moisture for the crops. Calving season is starting for those who calve in the spring. I hope it warms up so it is not so cold for those little babies.
Cottonwood Butte Ski Area is now open for skiers and snowboarders. Check their Facebook page for operations hours, call 962-3624 or go on-line at www.cottonwoodbutte.org
Idaho Farm Bureau has some opportunities for grade school students to write an essay or draw a picture and compete for prize money. The essay contest for all fifth grade students is being held now until March 1. The theme is How Agriculture Affects Me. The art design contest is for sixth through eighth grade students, with the deadline of March 1. The theme is Idaho Agriculture. Get the rules from your teacher.
Every year Idaho County Farm Bureau awards three college scholarships, $1,000 each, to seniors or students already in college. Applications must be in by March 15.
Again this year the Teacher Mini Grant is available to a teacher for a project that they would be otherwise unable to complete. This grant is aimed at the teacher to help with ag-related materials for the classroom. Applications must be submitted by March 15.
The photo contest is open to amateur Idaho resident photographers only. The types of pictures accepted are black and white, color prints or slides. Photographers are limited to three photos per year. The deadline is Sept. 2, 2014.
For information or forms on any of the above activities, contact Jeanne Arnzen at 962-3327 or jaarnzen@mtida.net.