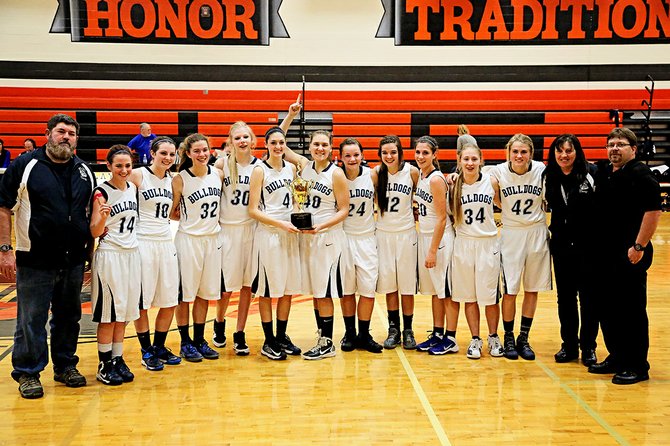 Contributed photo / Brandy Brown
Grangeville won its district, thereby advancing to the 2A state tournament, which will run Feb. 20-22 at Kuna High School, with the 2A title game to be played on the coming Saturday afternoon at the Idaho Center in Nampa. The 2014 2A District II champions are (from left): 'C' coach Shaun Bass, Erica Fortin, Hailey Sullivan, Kaleala Bass, Faith Bieler, Chantel Key, Lila Musegades, McKenzie Kennedy, Addie Lutz, Lizz Forsmann, Sarah Wilson, Madison Brown, 'JV' coach Elaine Anderson and head coach Larson Anderson.
TROY — Old Man Winter set back Grangeville's district tournament opener by a day, but neither wind nor sleet could keep the GHS girls from completing their months-long march to the 2A girls state basketball tournament, which will open with Valley against Cole Valley at 1:15 p.m. MT Thursday, Feb. 20, at Kuna High School.
With a fast start on Feb. 12, Grangeville pushed District II's second-best, St. Maries, to the brink of elimination with a 61-44 win. St. Maries survived a knockout game last Thursday night, but couldn't keep up with the Bulldogs on Valentine's Day.
Grangeville ran the Lumberjacks out of the tournament last Friday night, Feb. 14, 49-36 — and ran themselves into a first-round state tournament matchup with play-in winner Melba.
During the district second round against St. Maries, Grangeville pushed the pace and pressured the Lumberjacks, knowing the winner would have an extra day to recover while the loser would face the prospect of having to win three in a row in the midst of playing on four consecutive nights.
The strategem paid off in the second meeting, as St. Maries retreated into a conservative zone defense. The Bulldogs struggled against it for a quarter; even so, GHS led by 11 at halftime.
In the third quarter, Grangeville ripped off a 10-0 run to snuff out any sense of an upset St. Maries may have sniffed.
Though the Bulldogs reportedly shot only about 27 percent from the field, GHS out-chanced St. Maries 55-41 while holding the Lumberjack shooters under 30 percent in the district title game.
Chantel Key, who was named Central Idaho League "most valuable player" after the Wednesday night game, scored 13 points in the title game. She had scored 16 in the Wednesday night game. Hailey Sullivan, another of Grangeville's four all-CIL honorees, scored 21 on Wednesday and 11 on Friday.
Also recognized by the CIL coaches were Madison Brown and Kaleala Bass; Grangeville's Larson Anderson was named CIL "coach of the year."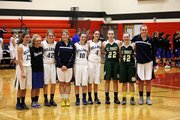 Coming — Grangeville (17-4) will play Melba at 8 p.m. Feb. 20 at Kuna. Melba survived a couple of close calls during the 2A District III tournament as well as a near-miss against that district's runner-up, Cole Valley. Melba lost to Cole Valley 31-28 on Feb. 8, beat McCall-Donnelly 32-31 Feb. 11, and edged Nampa Christian 45-40 to qualify for a play-in against Malad, which Melba won 38-35.
Also in the 2A bracket are: New Plymouth, which topped Cole Valley 35-28 in the District III final; Firth and Ririe, which played a three-point game in the District VI final; and Soda Springs, which beat Malad 41-36 in the District V title game.
The Grangeville-Melba winner will meet the Firth-New Plymouth winner at 8 p.m. Friday, Feb. 21. One of that quartet will play for the 2A title, slated for 1:40 p.m. MT on Saturday, Feb. 22, at the Idaho Center.
The tournament will be broadcast at idahosports.com.