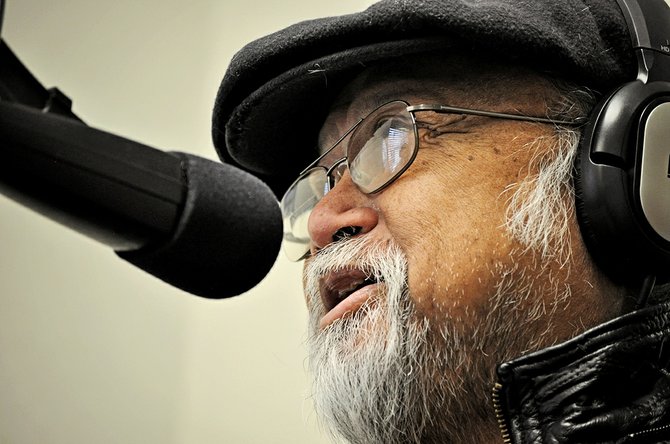 Photo by David Rauzi
Larry Ramos of Grangeville, member of the pop music band, The Association, speaks at an interview last Saturday, Feb. 15, for KKAG "Retro Radio" Grangeville.
GRANGEVILLE – It was a mother's influence that led Larry Ramos to a performance career.
"It's probably why I became a singer, because she was a singer," Ramos said. Some of his earliest memories, at age 3, are sitting next to his mother, Pat, on the piano bench, "and singing along with her."
Ramos, 71, of Grangeville, as vocalist and guitar player for the pop music band, The Association, shared some of his memories during his lifetime career in an interview with KKAG Grangeville "Retro Radio" (88.3 FM) last Saturday, Feb. 15. Interviews will be broadcast this week in advance of the Larry Ramos Farewell Concert with The Association this Monday, Feb. 24, at the Blue Fox Theater in Grangeville.
KKAG will broadcast 25-minute interview selections Wednesday through Friday at 7 a.m., noon and 5 p.m., and then the entire 50-minute interview will play at noon on both Saturday and Sunday.
The Free Press was invited to sit in on the hour-plus-long interview at the KKAG station with DJs Robin Huibregtse and Mike Johnson. Here are some excerpts from that discussion.
•
On his career start:
"I started playing the ukulele at 4, professionally at 5," Ramos said. His father taught him one song, My Bonnie Lies Over The Ocean, and from there he learned everything from the radio. "This was early in the war years," he said. "I loved the music back then. I thought it was the greatest."
Radio broadcaster Arthur Godfrey held a talent contest in Honolulu, and the night of the semifinals, Ramos was the last contestant out of 59, "and Godfrey had already fallen asleep," he explained, when he got up and played the song, Jealousy: "Godfrey jumped up and came over and said, 'You've already won. You're going to New York.'" Ramos, then 7, said, he'd have to ask his mom, "and that's what kicked off my television and radio career."
That same year, 1949, Ramos performed a ukulele act in the film, Pagan Love Song, brought on the production after he was discovered by the film's musical director playing his "uke" at his mother's gift shop.
"That's what actually started me in the business," he recalled, even though his part, singing "The House of Singing Bamboo" was later cut, "because the movie ran too long."
•
On his start with The Association:
Ramos had been playing with the folk group, The New Christy Minstrels, since 1962 ("I was 19 when I joined the New Christy Minstrels; they thought I was a little young then," he said), and in 1967 The Association needed to replace Jules Alexander.
"I call him the father of The Association," Ramos said. "If it wasn't for him, 'Cherish' would never have been a hit."
Ramos saw The Association's music as "so different," from what was being played during the time: "I thought it would be a challenge," he said.
"They wanted me to be lead guitarist," he said, but up to that point he had only played the five-string banjo and the ukulele. "But I didn't think it would be that hard."
Ramos explained why he left the Christy's was for his family: His wife had their twin girls, which he was present for their birth, and then went back on tour. "The next time I saw our daughters they were 6 months old; I said that's too long. I don't want to do this anymore," he said. He told the Christy's manager of his decision, who then told Ramos "If you leave the group now, you'll never work in show business again." Ramos thought he gotten by before this and that somehow he'd manage.
"Less than a year later," Ramos continued, "I was singing with The Association, collecting my first gold record for 'Windy.'
"It's funny how things happen," he said. "If I had never quit the Christy's I never would have been with The Association."
•
On trial by fire:
When Ramos first went on tour with The Association, he was to just listen to the band to learn the routine. But their second night out, the base player had a mishap with a firecracker that blew up in his hand and broke some bones; he couldn't play. Ramos was now thrust into the lead guitar spot.
"They said, 'Ramos, you're on stage tonight,'" he recalled, replying, "But I don't even know the music." They handed him a record player and two albums; this was at 4 p.m. and show time was at 7 p.m. "That gave me a couple of hours, enough to get by," he said.
•
On marriage in the show business industry:
Ramos and his wife, Helen, will mark their 50th anniversary on June 20th.
Making a marriage last: "It's work; you've got to work at it every day," he said. "You've got to love the person a lot because you go through a lot together. Sometimes I wonder how this person goes through the same things you have and stays with you."
"They gave us six months when we were first married," he said. "She was a blackjack dealer in Reno. I was a musician. A typical Nevada marriage." Since then, they've been through, "thick and thin together." Recently, she has been taking him to Lewiston for medical treatments, and he asked her how she could manage with that.
"She said to me, 'It was for better or for worse, and we've had better,'" Ramos said. "That said it all."
•
On living in Grangeville:
Ramos grew up in Hawaii, so why did they come to live in Grangeville?
"When your wife grew up here," he joked, "you really have no choice."
•
On the upcoming Feb. 24 performance:
"Actually, I'm a little nervous," Ramos said. "I haven't sung with the group in nearly a month and a half. It's been doing well without me and I don't want to mess them up."
•
His favorite Association song?
"Never My Love."