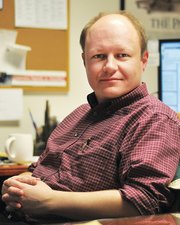 Many of us push the limit (and maybe a little past?) of regulated speeds on our roads and highways, but we may want to be questioning a little deeper a proposed Idaho Senate bill that would — in certain circumstances — allow for increased speeds.
One such questioner, Idaho AAA, raises issue with Senate Bill 1284 on a couple of components. One would be raising speed limits based on engineering and traffic studies that in some cases offer contrary and incomplete findings. Second is "why Idaho is in such a rush to be on the list of the states with the highest limits in the land."
That second concern is also ours, especially as it could potentially affect the major routes – including U.S. highways 12 and 95 – that bisect Idaho County.
We're all about improving transport efficiency and allowing state and local jurisdictions to study and determine the best speeds for their respective routes. But we're also about safety.
So would a five-MPH bump on U.S. 95 be to our benefit? Considering the multiple access points along these routes (and State Highway 13, as well as the roads and routes in the region), faster moving traffic seems to be more of a hazard when mixing with the slower local traffic you are likely to encounter around here — such as ag machinery — and in rural regions ins in general.
Mixed in this is a good point raised by Idaho AAA that the increase puts a greater range of speeds on the highways, from the lower 60s to 80 MPH, that is counterintuitive to the bill's purpose, mainly, improving traffic flow efficiency. Again, safety is our concern in this as such a range of speeds just seems to be asking for trouble.
Our legislative recommendation is improving speeds for interstates where it would be better suited than the narrower, winding and often frosted-over routes of rural Idaho.
Our basis for this isn't a survey or a study but rather the years of covering the traffic crashes and fatalities within Idaho County that in many cases involve speed as a factor. Let's keep it to speed on our roads around here and have a few more grumbling drivers make it to their destinations rather than provide more work for our emergency service responders.