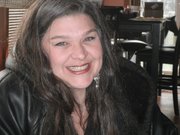 WHITE BIRD — Sorry for the communication problems last week. But it shouldn't take long for us to get caught up. It hasn't been too exciting around here lately. In fact, it kind of feels like winter. This is what you missed.
The Rebekahs had their sweetheart basket raffle again. They always put together really nice gift baskets. The drawing was held on the 14th at the Silver Dollar. Steve Kernutt won first place, Connie Shuck won second and Jody Simonson got third. Congratulations and a great big thank you to everybody else who bought tickets in support of our lovely Rebekahs.
There was a celebration of life for Bob Blair at the Pleasant View Baptist Church on Saturday, Feb. 15. Thank you for coming.
Once again there were 18 players for crib. Janis won first and Lou got second. The previous week brought in 18 players also. Jim took first and Laurie got second. It's still winter, so we've still got time to play cards. Join them next Saturday. Same time, same place.
After the crib tournament this week, we will be having a February birthday celebration for all the people who were born in February. Come join us for some birthday fun and cupcakes.
Coming up the first of March, the Salmon River Art Guild will be celebrating 50 years at Hoot's Café. There will be an art sale and everything will be $50 or less. Come and support your very talented neighbors and see what they've created. You could make a day out of it, and enjoy lunch at Hoot's. The times are from 8 a.m. to 3 p.m.
Coming up next will be the Joe Wilson's Saint Patty's Day Sausage Feed. This is another one of those great times when we can all get together and share a good meal.
Happy birthday last week to everyone I missed, especially my beautiful valentine, Canyon Walker Lowe! I think I'm pretty lucky, that I actually learned what true love is the day my son happened to be born. Happy birthday this week to: Jake Blair, Wyatt Meacham, Darlene Wadsworth, Andrew Blair, Ally Roemer, Deanna Legg, Ray Holes, Jr. Hootie, Sheanna Cook, Fae Roberts, Tyler Bransford, Dan White, Rachel Eidal, Patrick Fanning, Josh Collier Booze, Colter Bransford, Aiden Anderson, Kael Eller and little Jazzy, Jazmyn Larkin.