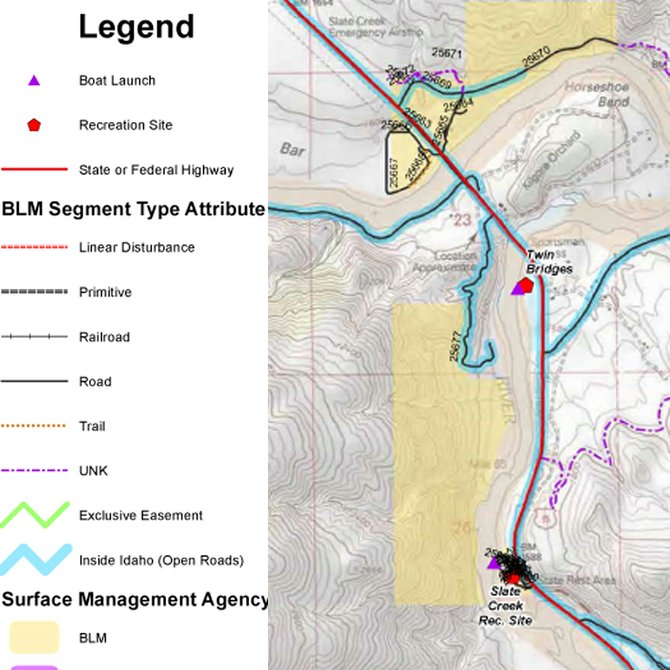 COTTONWOOD – 42 years ago this month, on Feb. 8, 1972, then-President Richard Nixon signed Executive Order 11644, which directed executive branch departments to start managing vehicle use on public lands – and that order has rippled through time to compel the Bureau of Land Management (BLM) to start regulating routes on its lands throughout North Central Idaho, soon to include part of BLM's acreage in Clearwater, Nez Perce, Lewis and Latah counties as well as the agency's Slate Creek holdings in the Lower Salmon River.
A 2012 preliminary mapping of 130,480 acres within the BLM's Cottonwood Field Office jurisdiction has, according to the agency, inventoried all known routes within seven units: Clearwater, Craig Mountain, Joseph Plains, Elk City, Little Salmon, Marshall Mountain and Riggins, grouped into two zones. The Clearwater, Craig Mountain and Joseph Plains units are together termed the Cottonwood Field Office's "north zone," and as of Feb. 3, the North Zone's "routes" (roads, trails and vehicle ways) will become part of a new "travel management network," which will designate routes the agency will allow for public use. The Joseph Plains unit ends just south of Slate Creek.
The BLM is requesting public input to help verify the inventory of existing routes, as well as access needs, current uses, users and types of use.
A public comment period is open through March 14; comment forms are available online at blm.gov/jqld; or can be mailed to: Bureau of Land Management, attn.: North Zone TMP, 1 Butte Drive, Cottonwood, ID 83522; or can be e-mailed to blm_id_nztravelmgmtplan@blm.gov.
Those who wish to comment are asked to review the route inventory maps on the web at blm.gov/jqld. Comments on potential routes are encouraged; commenters are asked to use unique route number (black 5-digit number located on quad maps) with these types of specific comments. If you see a route missing that accesses or crosses BLM land, submit the route information, map or data no later than March 14 by drawing the route on one of the maps, submitting your own map or data to the BLM, submitting Google Earth files in KML format (e-mail preferred) or submitting GIS data in ESRI shapefile format. (Include projection information with GIS data, e-mail preferred).
BLM is also asking for detailed comments on potential alternatives for route designations; use the online comment form and include the unique route numbers with these types of specific comments.