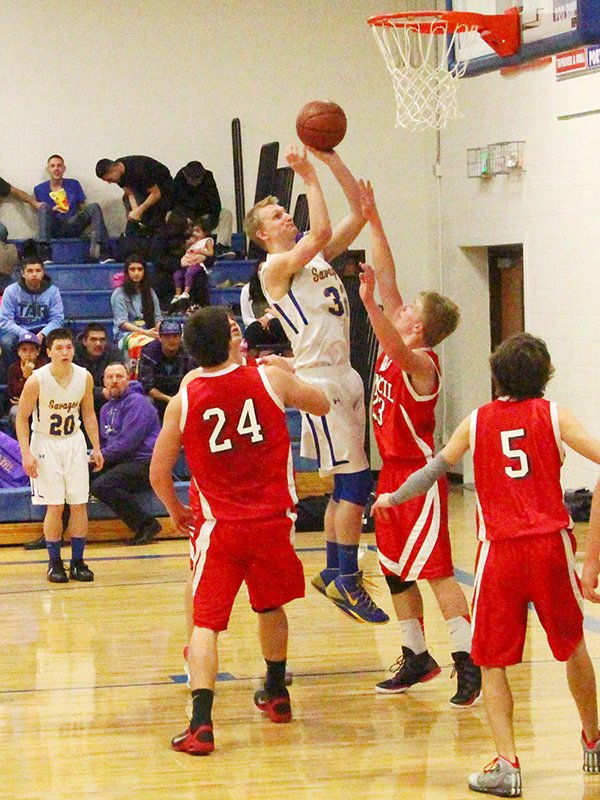 Salmon River Photos / Frank Mignerey
Salmon River's McCoy Hale delivered 17 points in a Savages win over Long Pin Conference familiar Council last Saturday, Feb. 22.
MCCALL — By outflanking Council 65-42 last Saturday, Feb. 22, Salmon River looks to have opened up a beeline to the District III boys basketball title, with which the Savages would secure a state berth.
Salmon River smoked Council with a 16-minute firestorm during which the Savages rained down 35 points, primarily from Leighton Vander Esch (who scored 28 points in the game), McCoy Hale (17) and Jimmy Shepherd (14).
Up next, the Savages (18-2 overall) need no longer consider Wilder, which was eliminated by Meadows Valley last Thursday, Feb. 20, nor Meadows Valley, which was eliminated by Horseshoe Bend last Saturday afternoon.
Salmon River might also be tempted not to give Horseshoe Bend much consideration, as the Mustangs have not come within 25 points of beating the Savages in two prior meetings. But the 11 similarly lopsided wins on the SRHS resume suggest this senior-heavy squad — ranked atop its classification — is unlikely to look past Horseshoe Bend or any other team that would disrupt its hunt for a second straight 1AD2 title.
Summit 62, Nezperce 44
LEWISTON — Summit broke Nezperce late in the 1AD2 District II tournament second round game last Saturday, Feb. 22, ramping a 34-29 lead toward a rout with 13 fourth quarter points from Josh Lustig. Michael Waters scored 20.
Summit (13-5) played Kendrick (7-15) for the district title and a state berth after the Free Press print deadline on Tuesday.