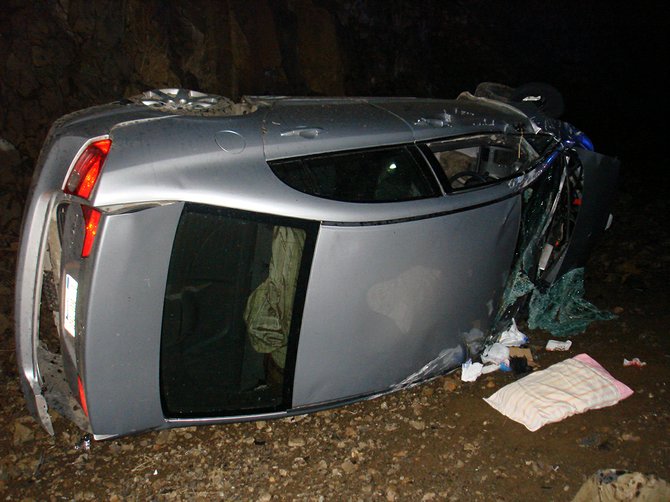 Contributed photo / ICSO
This 2008 Honda Civic ended up on its side following a crash last Thursday night along the White Bird Grade.
Alcohol is a suspected factor in last week's one-car crash along the White Bird Grade.
William E. Eacret, 74, of Kooskia, was transported to St. Mary's Hospital (SMH) in Cottonwood. SMH does not release patient update information.
No charges have yet been filed in the Thursday, Feb. 20, crash reported at 9:17 p.m. four miles north of White Bird on U.S. Highway 95, according to an Idaho County Sheriff's Office report. Eacret was traveling northbound in a 2008 Honda Civic when, according to the report, he drifted left of the center line, across the southbound lane and left the roadway on the southbound shoulder. The Honda then traveled approximately 280 feet through the rocky shoulder, leaving car debris behind, before striking the hillside, which caused the vehicle to flip onto its passenger side.
According to the report, bystanders found Eacret in the driver's seat with his seat belt fastened, and attempted to remove him from the vehicle but were unsuccessful.
ICSO Deputy Troy Roberg reported the odor of alcoholic beverage coming from the vehicle and inside observed an unspecified amount of Keystone Light beers. Prior to this, deputies Roberg and Gideon Roberts had been dispatched to the Silver Dollar Bar in White Bird to find a possibly intoxicated driver, who had been reported wearing a black cowboy hat – Eacret was found wearing one at the scene — and driving a silver Prius.
Assisting on scene were the White Bird QRU and Syringa Ambulance. Dale's Rescue Towing provided wrecker services.