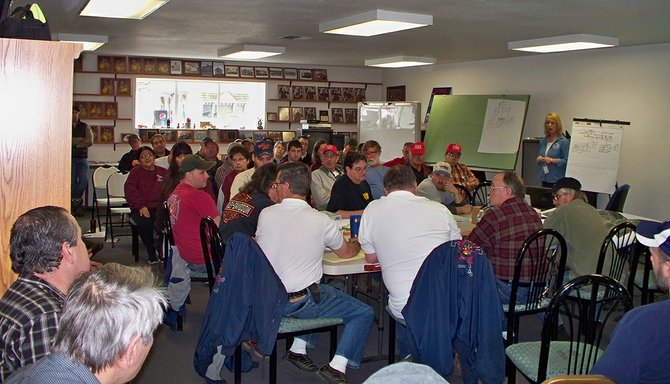 KAMIAH — Working on communications and coordinating services was the focus of an urban/wildland fire command exercise held at the Kamiah Public Service Building Feb. 15. This was sponsored by the emergency management offices of Idaho and Lewis counties, with the aid of the Idaho Bureau of Homeland Security (BHS), Idaho Department of Lands (IDL), U.S. Forest Service and Grangeville Interagency Dispatch Center
The discussion-based exercise was focused on establishing an Incident Command Structure (ICS), ensuring operational coordination and assigned resource accountability, and describing appropriate incident communications. Lewis and Idaho county rural fire departments were challenged to deal with an expanding fire that eventually required mutual aid resources from both counties, and involved state and federal resources, as well.
The exercise was attended by about 70 persons, representing volunteer fire and EMS services throughout Idaho and Lewis counties, as well as personnel from the Nez Perce Tribe, IDL, BHS, county law enforcement and emergency management from Idaho, Lewis, Clearwater, and Benewah counties.