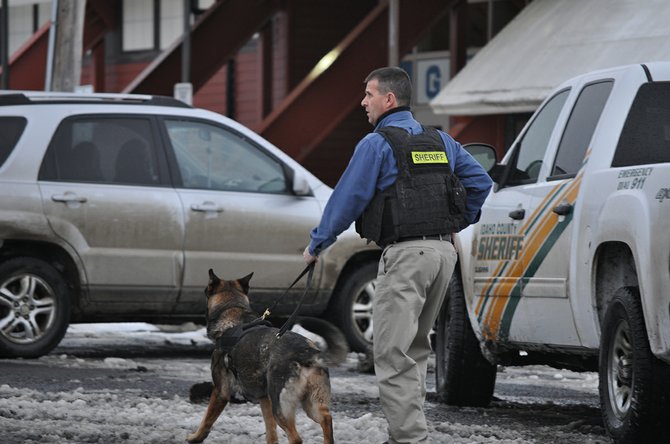 Photo by David Rauzi
An unidentified Lewis County Sheriff's Office deputy deploys a K-9 dog to assist in the facility search of Grangeville High School during Monday afternoon's lockdown.
GRANGEVILLE – From a law enforcement perspective, Grangeville Police Chief Morgan Drew said he was pleased with the quick reaction to the Feb. 10 GHS lockdown by all those involved.
"Three units in three minutes [two GPD, one Idaho County Sheriff's deputy]: You can't ask for a much faster response time than that," said Chief Drew. And with the situation unknown and the possible suspect unable to be identified or located, it took within a minute for staff and students to enact lockdown procedures by moving to secure indoor locations.
"It was very quick; people realized it wasn't a drill," he said.
With such an incident, inquiries for additional response units were quick in coming from outside law enforcement agencies: Idaho and Lewis county sheriff's offices, Cottonwood Police Department, Idaho State Police and the Forest Service. That allowed for sufficient coverage to provide for a facility search as well as control the building perimeter outside.
"But had this been an actual threat," Drew said, "we had three capable people on the scene who hopefully could have located and stopped that threat." The hard truth realized in past live shooter incidents nationwide, he continued, is in such situations, "bad things have already happened, but we hope by the time we get there we can minimize anything like that."
Though the GHS situation turned out to be false, there was still a human cost that was exacted.
"From the students' and staff standpoint, from the feedback we heard from them," Drew said, "they thought this was extremely real, that there was someone in the school with a firearm. That was scary for those folks, and for us too."
For the lessons learned as a result, in general, this involves tactics in working with different law enforcement agencies, which due to security could not be elaborated on. However, Drew discussed how the public could be better served in the future.
"We completely understand, especially parents who had children in the high school or family members with staff there; they want to be as close to them as they can," he said.
For those on the outside, Drew recommends patience and law enforcement will get word on the situation and updates – using media, social media and district mass communications — as soon as possible. He also recommended they avoid engaging perimeter law enforcement as they likely won't be able to answer questions, and doing so "detracts from what they're supposed to be doing," he said.
"One of the best things to come out of this was our kids are being observant, they're being careful," Drew said. "We had a student who saw something that was out of place and made a report to law enforcement so we could deal with it."
"That's a good thing," he added.