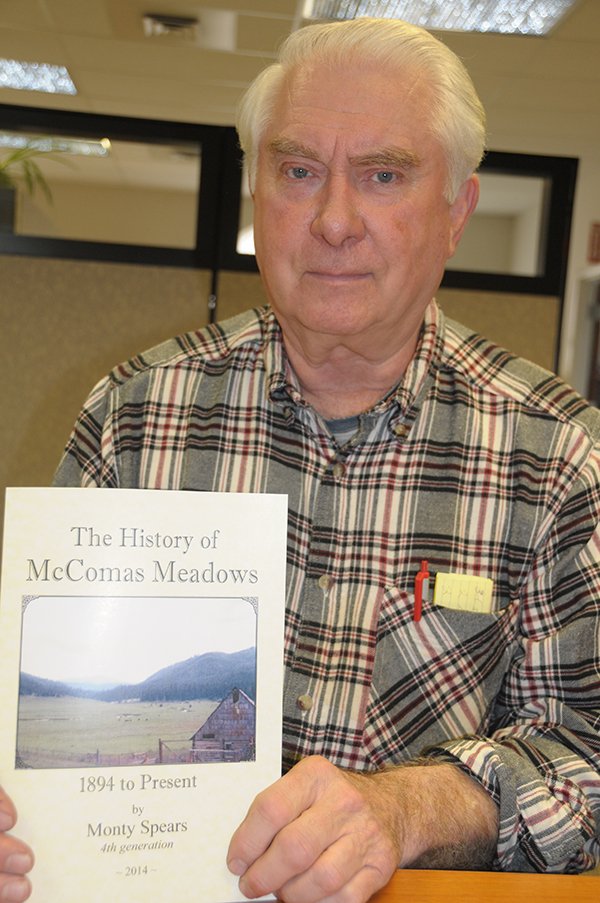 Photo by Lorie Palmer
Monty Spears is pictured here with his recent book, "The History of McComas Meadows."
HARPSTER — The roots run deep in McComas Meadows. And Harpster's Monty Spears has spent a lifetime tending to those roots.
Spears, a fourth generation descendent of the meadows, recently published the book "The History of McComas Meadows, 1894 to Present."
Spears starts with the homesteaders of the meadows and tells the stories of a variety of people who passed through and settled on the land throughout the years, including Jess McComas who ended up marrying Spears' Aunt Ellen Shearer Milot.
McComas owned the meadows until his death in 1953. The Spears and Wasems, direct descendents of Lloyd Rupe and Murl Sherer Rupe, still own a piece of the original homestead of Rudolph Whitman, which was later sold to the Ruff Family and then to McComas.
"Our families each maintain a cabin on this land," Spears said. "Some years before his death, Grandad Rupe told me that he hopes the family keeps what property is left of the old Whitman homestead and McComas Ranch. He said, 'I would like for all of our family and friends to see this place for generations to come.' That's just what we've done."
One full chapter is dedicated to Camp 58, the Potlatch Forest Industries logging camp that operated from 1943 to 1957. Spear's father, Jack, worked at the camp and helped write up the portion that describes the camp, its workers and its buildings. Years after Camp 58 was just a memory, Monty and his wife, Brenda, were married there. The couple now owns the Harpster RV Park, store and eatery.
Although Spears spent a part of each year of his life at the meadows, he said he was still surprised at some of the history he learned as he researched and wrote the book.
"I had always known Swede Creek and Swede Ridge were named after 'The Swede who killed himself' there. I learned his name was George Carlson and he was only 19 years old," Spears said. "That changes the way you feel a little when you go to those places now, knowing the name and something about him."
Book signings set:
The History of McComas Meadows includes color and black and white photos, is 8-1/2 by 11 in size and has 65 pages. It is available for $15. Spears will host a book signing Saturday, March 1, at the Kooskia Café from 11 a.m. to 2 p.m., and at Rae Brothers that same day, 3 to 5 p.m. The book will also be available at Ray Holes Saddle Company, Cash and Carry, Asker's Harvest Foods, Ace Home Center and Shear Magic in Grangeville and also at Dale's, Kamiah True Value and Clearwater Builders in Kamiah; Kooskia Café and Clearwater Valley Harvest Foods; and Stites Grocery and Stites Ace Hardware.