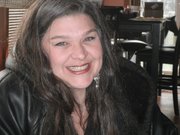 WHITE BIRD — Not only do I have news to report this week, but I have the best news that has come to this draw in years! Here it is.
Last week a group of us went to the school board meeting in Kooskia, because the White Bird School was on the agenda. We wanted to know what the district was planning on doing with our school since the city moved out. Kent Stokes, our new superintendent, said that they hadn't made any plans yet and were waiting to hear from all of us. The board wants to know what we want them to do. They said that they want to do what is right and work with our community. We reminded them of how much money our tax base has paid into the district through the years, and how we have been paying $650 a month for rent, since the school was closed. We suggested that we turn the school into the new White Bird City Center, with the possibilities of having a place for the city clerk, the fire department, the EMTs, the chamber, White Bird Days, Easter egg hunt, a place for the busses to pick up our kids, family reunions, and a place where our kids can safely play. The board agreed with us and they sounded pretty positive about figuring out a plan to make that happen. If the city of White Bird acquired the school, there are so many more things we could do with it.
Here's where we all come in. Kent Stokes is going to come to the school this Friday, Feb. 28, for a town meeting at 6 p.m. He wants to hear from all of you, so the board knows what our community wants. He will answer any questions or concerns you might have. This will be a chance for all of us to work together, share ideas, and come up with a plan. This meeting is not just for the residents of White Bird. This is a decision that will affect everybody around us. We are asking that everyone in our community, including the city council members, come to this meeting. Those of you who live in Slate Creek, Grangeville, Riggins, Cottonwood and surrounding areas, please join us. Those of you who have played with your kids and grandkids at our school, or taken your kids to the famous White Bird Easter egg hunt, or had your family reunions here for generations, need to make sure these traditions don't die. The board wants to do what is right, but they need to know what we want. It is our responsibility to make the right decision, not only for us, but for the future generations of this community. It is important that we have more than just a few people to help make this decision; it should be all of us. Come to this very important town meeting and let the city council members know what you want them to do. Even if you don't want to say anything, attend, so the decision makers know you care. If for some reason you can't make it to the meeting, feel free to e-mail or call Superintendent Kent Stokes at 983-0990 or e-mail him at stokesk@sd244.org.
The Salmon River Art Guild will be celebrating 50 years, by selling art for $50 or less at Hoot's on March 1. Come and support our many talented artists, who make our world a more beautiful place! It will be from 8 a.m. to 3 p.m. Support Hootie and have lunch while you're there too! Town meeting, Friday, 6 p.m., at the school.
The Joe Wilson's Saint Patty's day breakfast is right around the corner. This is a family-style breakfast. You come in the IOOF Hall, sit down anywhere you want, and people just start handing you food! It's wonderful! Pancakes, eggs, sausage, juice and coffee. Every year they always order extra sausage. If you would like to buy some, you can sign up and pay for it in advance at Canyon House. It costs $12 for about 4 pounds, and it's really good sausage. If you can't make it to the store, just call and we'll get your name on the list, and make sure they get enough ordered. Town meeting, Friday, 6 p.m., at the school.
I'm happy to report that there were 18 players at the cribbage tournament last Saturday. Nick got first place and I got second. Yep, I got beat by a blind man wearing Roy Orbison sunglasses. Join the crib players next week at 2 p.m., at the Silver Dollar.
Happy birthday this week to: Sheila Reidhead, Misty Montgomery, Robert Bashaw, Stan Moore, Byron Brown, Lynn Kernutt, Jim McGarvin, Dean Klement, Frankie Zumwalt, Jack Lees, Lisa Zumwalt, Judy Lammle, the wonderful Virginia Adkison, Hillary Minter, Steve Bunting, Ruth Mahurin, Toni Sickels and Courtney Stolberg. Town meeting, 6 p.m., at the school.