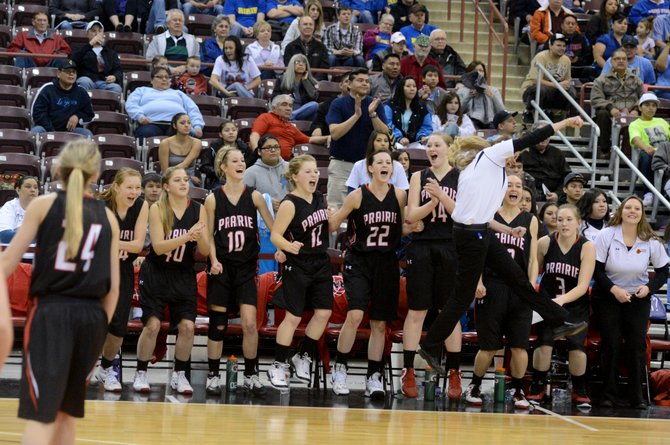 Photo by Andrew Ottoson
For the second time in three seasons a Lori Mader-coached Prairie High School girls basketball team celebrated a state championship on the Idaho Center's hardwood floor; the Pirates defeated Lapwai in the tournament finale last Saturday, Feb. 22. Pictured are (from left): Sarah Seubert, Kylie Tidwell, Leah Holthaus, Nicole Wemhoff, Kyndahl Ulmer, Kayla Schumacher, coach Lori Mader, Krystin Uhlenkott, Keely Schmidt and assistant coach Sarah Walsh.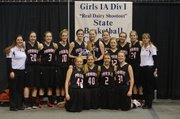 NAMPA — Call these Prairie Pirates champions once again, and count coach Lori Mader's pressure defenses and post offenses among the level's most potent powerplays.
Lapwai — second-best among the 1AD1 girls for the second straight season — fell into early foul trouble and soon proved prone to attack by PHS forwards Kayla Schumacher and Kyndahl Ulmer, who scored 17 points apiece to lift Prairie's second girls basketball title in three seasons, 56-40.
As the fouls piled up during the championship game last Saturday, Feb. 22, at the Idaho Center, the Wildcats' ability to counter Prairie's effort dwindled as each half progressed.
The Pirates were perhaps fortunate to be faced with a tie game, 9-9, after one quarter, as none but Schumacher found the range during Lapwai's early 9-0 surge. Or perhaps the Wildcats were fortunate to be in a close game after key guard Marquel Shawl picked up her second foul just 1:13 into the contest. (The previous day against Genesee, Shawl scored 17 points, many of which came during a crushing early run.)
Prairie used a 15-2 run to lead by as many as eight during the second quarter. After Schumacher brought the Pirates out of the doldrums with five straight to close the first, Ulmer hit a couple of foul shots and Keely Schmidt drilled a long jumper. Hailey Danly followed with two free throws, then Ulmer hit a jumper. Ulmer then drew a third foul against Lapwai's Iris Domebo and knocked down both freebies for a 19-11 Prairie lead.
Shawl snapped Lapwai's funk with a three-point jumper, but PHS went back to Ulmer, who drew Shawl's third with 30 ticks left in the second quarter.
Prairie went to Ulmer again on the next trip, and her miss caromed to Schumacher, who banked in the last shot of the half. That late basket, along with 11 rebounds, gave Schumacher a double-double before intermission. It also added to a lead — 22-16 — the Pirates would not relinquish.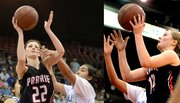 Lapwai trailed by as many as 11 during the third period, but Shawl and Wildcats forward Cyra Cunningham combined to close the gap to two points, 32-30, during the final minute of the third.
Schumacher drew Shawl's fourth foul with 40 seconds to go, but Shawl came back with a traditional three-point play that brought the margin to two. After Ulmer powered in a layup, Lapwai's Erin Ramsey nailed a three, making it a one-point game early in the fourth.
Then PHS point guard Nicole Wemhoff came up with huge basket to raise Prairie's lead to three, 36-33, with a breakaway layup. Ulmer made it nine, 45-36, with a layup midway through the fourth. In between those hoops — and throughout the fourth — PHS maintained the lead with free throws.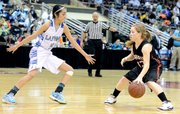 Ulmer and Schumacher hit nine apiece in the contest, a combined for 18-of-21 (86 percent) from the line. Prairie as a team converted 30 of 42, which is a bit better than 71 percent.
Cunningham (12 points) and Ramsey (11) scored double-digits for Lapwai; Shawl finished with six. Domebo, who averaged 12 per game against the Pirates during three previous meetings this season, finished with just five.