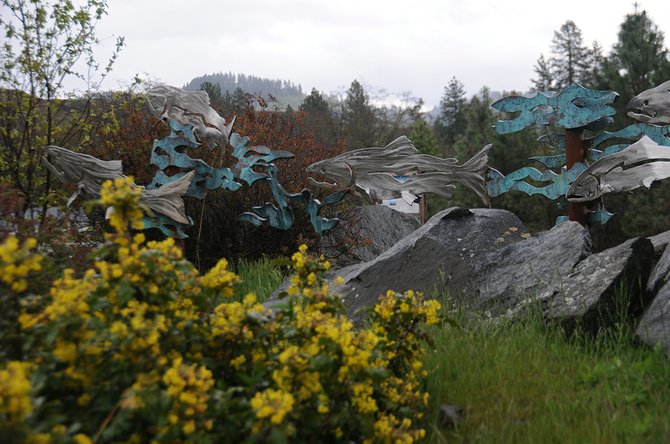 Photo by Lorie Palmer
A view of the Kooskia Kiosk, located at the junction of State Highway 13 and U.S. Highway 12.
KOOSKIA – We have water, Houston.
For the last 20 years, the manicured wayside at the junction of U.S. highways 12 and 13 has had its vegetation watered by volunteers who hauled water to the site. In September 2013, the Kooskia Revitalization Team voted to have a well drilled to ease the impact on volunteers and ensure the site stays healthy.

Well drillers Mark Nail and Sons and Jason Anderson, Ford Creek Pumps in Orofino, teamed up with the revitalization team to make water at the site a reality. A well was drilled in November and a pump acquired. The system is not yet complete as electricity needs to be brought to the well and an irrigation system purchased and installed.
"It has been a yeoman's job to keep that site watered in the dry part of the year," stated Joy Lee, chair of the Revitalization Team and principal water hauler. "Many folks have assisted with watering over the last 20 years including the city of Kooskia Fire Department, the Forest Service and other community members who had means to haul water. Without their past support, this kiosk would not be the gem that it is and we thank all those people."
"We are very fortunate to have Mark Nail and Jason Anderson help us make this well a reality," added Lee.

The Kooskia Kiosk was started in 1994 and has beautified the highway and provided information and interpretive displays to visitors and locals alike. Many communities have modeled similar waysides during the last 20 years. The Kooskia Kiosk site is under indefinite permit to the City of Kooskia from the Idaho Transportation Department.
The next step is to raise money to purchase an irrigation system. A fund-raiser is planned for Saturday, March 8, at the Kooskia Community Center. This will include "Spudingo" which is a baked potato bar with the accessories and dessert followed by Bingo. Dinner will run from 5-7 p.m. for $7 apiece (kids younger than age 10 are $5) with Bingo starting at 6 p.m. Donations can also be sent to Kooskia Revitalization, attention Joy Lee at the City Hall in Kooskia.