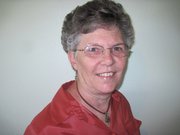 COTTONWOOD — Did you make a New Year's resolution to exercise more? If you did, come and check out the exercise classes which are being held on Monday and Wednesday evenings from 7-8 p.m. in the Cottonwood Community Hall. These classes are geared toward the 40 to 60-year-old age group, but all ages are welcome to attend. The main goals of these classes are to help increase strength and balance and also help control weight gain. Both women and men are encouraged to attend. These classes are being sponsored by St. Mary's Hospital and are only $10 a month. If you have any questions concerning these classes contact Cheri Holthaus at 962-2327.
Prairie Community Library has announced the winners for the Cottonwood Chronicle Christmas coloring contest. First-place winners were as follows: 0-5 age group, Thomas Rose, son of Bo and Amy Rose; 6-8 age group, Taylor Riener, daughter of Shaun and Lisa Riener; 9-12 age group, Nicole Rehder, daughter of Joe and Charlene Rehder. The librarians wish to thank all the kids who entered. There is still time to put in an estimate on the library desk project. For questions call the library, 962-3714.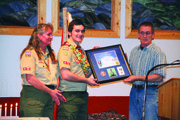 Seth Chaffee recently received the Eagle Scout Award for 12 years of service to the scouting program. A boy's service to God and country, community, and self is very important to get a person through life. The Scouts' motto is "Be Prepared" and the Scouts slogan is "Do a good turn daily." Whether it's going on a campout or getting a phone call for help, Seth has always been ready to help people in need. Prior to receiving his Eagle Scout award, Seth worked on a badge for citizenship in the community which has eight hours of service as a requirement. Seth worked to help the elderly clean a flooded basement or bringing in wood. He also helped organizations with volunteer work for the Knights of Columbus and the library, and did food drives and roadside cleanup. Keep up the good work in all you do, we are very proud of you Seth.
B & A Performance Auto did a program Called "Keep Education Rolling" during the months of October and November. They gave 3 percent of tire sales to local schools, according to the customer's choice. The total donated was $1,000 which went to schools all around the area. What a good way to give back to the community and support the schools.