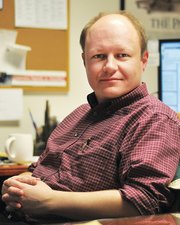 Spouse beaters, gas station robbers and drug dealers: All are criminals, but not all these folks should be treated the same when it comes to sentencing. That is obvious, but when it comes to federal crimes this common sense is lost due to laws requiring mandatory minimum sentencing.
"Congress passed these laws to appear 'tough on crime.' But the reality is these laws represent a 'one-size-fits-all' approach that is actually leaving us less safe." — Rep. Raul Labrador.
We bring to your attention an effort co-sponsored by Congressman Labrador, the Smarter Sentencing Act, that with broad spectrum support proposes to bring, in his words, "much-needed common sense and flexibility to our criminal sentencing laws."
Labrador states federal incarceration in the past 30 years has increased by more than 1,000 percent. Of those inmates, half are in prison due to drug convictions and the majority is nonviolent offenders who do not require harsh sentences. However, judges are forced to impose mandatory minimum sentences that, according to Labrador, result in fewer resources to protect society from those truly violent.
His proposed Smarter Sentencing Act would lower certain drug mandatory sentences, allow judges to determine – based on the circumstances of each individual – when the harshest penalties should apply, allow some inmates to petition for sentence reductions, and it would expand the federal "safety valve" to allow sentencing below mandatory minimums for certain nonviolent drug offenders.
Appealing in this legislation is eliminating that broad stroke of sentencing and allowing judges – not micromanaging politicians looking for the "tough on crime vote" — to decide sentencing on the merits of the case in relation to the duty to protect society. This also addresses overcrowding in the federal prison system and the accompanying need to build and expand expensive incarceration facilities. And, this is a solution appealing to a broad range of groups including the ACLU, American Bar Association, American Correctional Institution, NAACP and Heritage Action.
This is good win-win legislation to support our congressman on. Keep track of its progress online at: congress.gov.