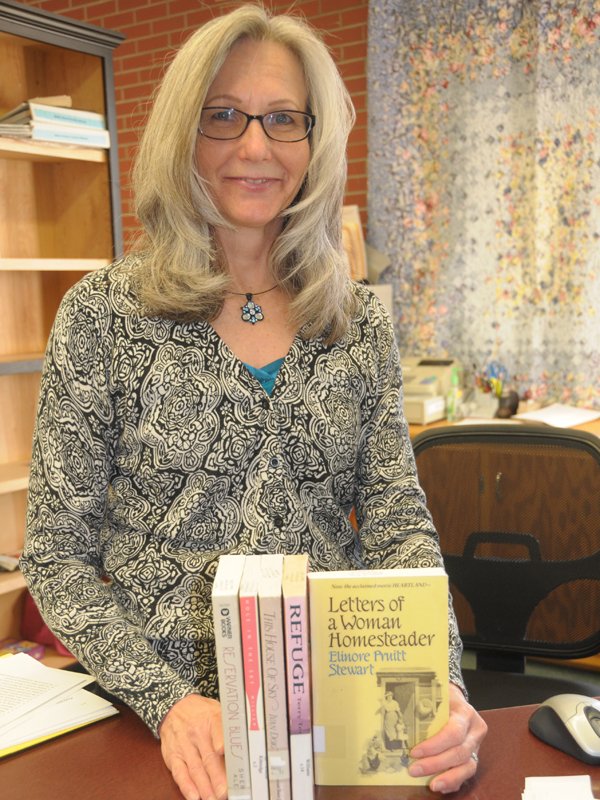 Photo by Lorie Palmer
Grangeville Centennial Library's Debbie Urquhart has books ready for the Let's Talk About It series set to begin Jan. 21. Those interested in participating can stop by and pick up books.
If you're wondering what could be better than sitting down and discussing a good book with friends, then "Let's Talk About It" is for you.
Grangeville Centennial Library (GCL) will host the first discussion in the series Tuesday, Jan. 21, 5:30 p.m., at the library. The first book up is "Letters of a Woman Homesteader" by Elinore Pruitt Stewart.
"There are a lot of categories and books to choose from," explained GCL's Debbie Urquhart who has facilitated the program for the past several years. "I did a survey last year and got ideas from participants on what they would like to see so this year reflects that."
Let's Talk About It is sponsored by the Idaho Commission for Libraries (ICL) with assistance from Idaho Humanities Council, US Bancorp Foundation and Institute of Museum and Library Services. GCL's Friends of the Library assisted with a nominal monetary amount that helps pay for the shipping of the books. Books are on loan from the ICL to be used throughout the program in Grangeville. The library has to apply each year and has been fortunate enough to be chosen for the program the past three years in a row, Urquhart said.
"It is really a good deal for everyone as you do not have to have a library card to participate," Urquhart said. "Just stop in and sign up and check out a book."
For the Jan. 21 discussion, Steve Barrett is the scholar who will facilitate the book discussion. He is an archivist and family history and local records specialist of the Idaho State Historical Society and is the immediate past president of the Idaho Genealogical Society. He teaches American literature courses at Boise State University and previously taught writing courses at Miami University, Ohio; Florida State University and the University of New Hampshire. He holds degrees in creative writing and a Ph.D. in American literature and rhetoric.
Those interested in joining the group – all, one or specific books that hold interest – are invited to stop by the library at 215 W. North Street. Call 983-0951 or e-mail durquhart@grangeville.us.
The additional reading list is as follows:
•Tuesday, Feb. 11, 5:30 p.m., Refuge by Terry Tempest Williams (scholar: Matthew Haynes)
•Tuesday, March 4, 5:30pm, This House of Sky by Ivan Doig (scholar: Wendy Green)
•Tuesday, March 25, 5:30 p.m., Hole in the Sky by William Kittredge (scholar: Barbara Meldrum)
•Tuesday, April 15, 5:30 p.m., Reservation Blues by Sherman Alexie (scholar: David Barber)