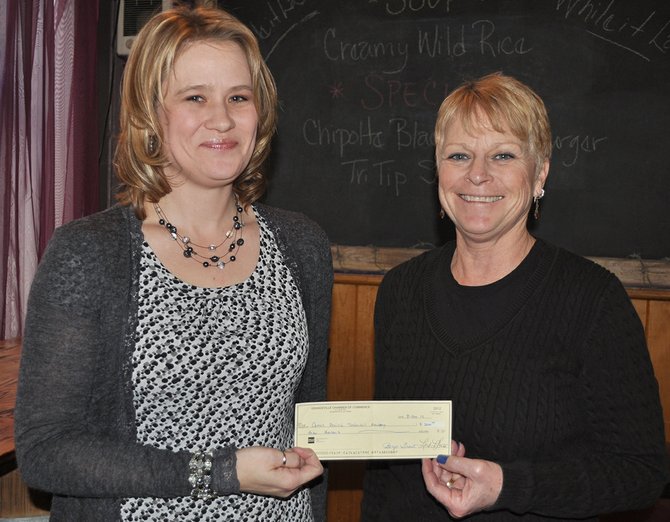 Photo by David Rauzi
(L-R) Melisa Bryant, economic development specialist for the Ida-Lew Economic Development Council, accepts a $3,000 check from Grangeville Chamber of Commerce President Lark Hall that will go toward the newly formed Idaho-Lewis County Technical Education Foundation.
GRANGEVILLE – "A very impressive start," said Melisa Bryant. The economic development specialist for Ida-Lew Economic Development Council received a $3,000 donation from the Grangeville Chamber of Commerce last week that will give a strong funding boost to the Idaho-Lewis County Technical Education Foundation for local workforce training.
As its goal, the foundation looks to create local, industry-driven workforce education opportunities for youth, under-employed or under-skilled adults and offenders. Through this the foundation hopes to create a skilled workforce to fill living wage positions with local employers and grow communities in Idaho and Lewis counties.
ILCP meeting set Jan. 23
GRANGEVILLE – The next Idaho Lewis County Partners meeting will be Thursday, Jan. 23, noon, at Oscar's Restaurant in Grangeville. Topic of discussion will include the quote from Dr. Robert Ketchum for the strategic plan development, the creation of the foundation, fund-raising efforts and next steps.
The public is invited to attend; RSVP to ensure adequate room is provided for attendees: 983-8302, melisa@ida-lew.org .
The foundation was created by the Idaho Lewis County Partners – comprised of more than 50 businesses, seven school districts, Lewis-Clark State College and the University of Idaho, and community members — that has been behind the development of the Camas-Clearwater Technical Education Center, tentatively set for opening in two years at the former Prairie Elementary School facility in Cottonwood.
The first-year goal for the center is enrollment of 70 students in grades 11-12 from Cottonwood, Craigmont, Grangeville, Kamiah, Kooskia, Nezperce and Riggins; training for 65 North Idaho Correctional Institution (NICI) student-offenders; and 36 adult workers.
Funds provided by the chamber membership last week will go toward an estimated $7,000 needed to develop a strategic plan for the proposed technical center, according to Bryant. Fund-raising and grants will also be sought for both the plan and to fund a position to develop the center. The foundation is currently seeking 501c3 status, and until that time it has a fund set up through the Idaho Community Foundation that allows donations to be tax-deductible.
Overseeing the foundation are board of director members Clarence Chapman, executive director, Syringa Hospital Foundation; Rick Peterson, owner of Gem Chain Bar; Emmett Wilson, NICI instructor; and Mike Tatko, regional manager for Avista Utilities.