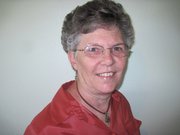 COTTONWOOD — The holidays are over and it is time to take down decorations. Everything looks bare without them. It is nice to have this time of year to celebrate God's gift to us. He is the gift that keeps on giving.
We went to the Knights of Columbus breakfast Sunday and they did everything up right. Have you ever wondered how many flapjacks Jim Remacle has made? It's got to be a lot. He has been doing it for a long time.
My compliments to Lloyd Nuxoll for always keeping the sidewalks clear around the church and gym in Greencreek. He has been doing that for a long time also.
The Ministry Fair will be next weekend, Jan. 18 and 19, after all the Tri-Parish Masses. This is an opportunity to find out what all the different ministries are that keep our parishes alive, and a place to praise, worship God and serve thy neighbor. Plan to stop by the halls after the Masses. Possibly you will find one in which you would be interested. Help is needed in some of the ministries.
The renovation of the basement of the Cottonwood Community Hall has begun. They tore out some walls to make a bigger meeting room with the help of a crew from NICI. The City Council chamber is now a small room but can accommodate large crowds if necessary. Since they have everything under control most of the time, a large room isn't necessary. Watch for more updates as work progresses.
Summit Academy is also doing some renovation with the help of NICI. They are building a chapel and making changes in the computer room. The chapel will be available to more students for prayer time when it is finished. The computer room needs the computers hooked up and it will be done.