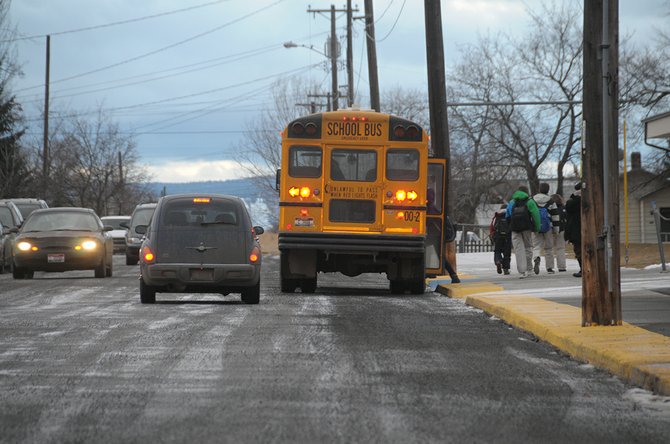 Photo by Lorie Palmer
Traffic on Court Street becomes congested when both buses and parents use the street to drop off and pick up students. This photo shows that scenario Thursday morning, Jan. 9, before school. Grangeville Elementary Middle School principal Alica Holthaus is advising parents to not use Court Street but to drop off children at other locations including Idaho and South A streets.
GRANGEVILLE – Are there those busy streets you simply try to avoid at certain hours? You might want to add Court Street to your list.
Court Street runs alongside Grangeville Elementary Middle School in-between South Idaho and B streets and principal Alica Holthaus may be obtaining a few gray hairs because of activity on the pathway.
"The street is very narrow and it's where our buses park to drop off and pick up," Holthaus explained. "Even if people are going well within the speed limit – well, even 15 miles per hour seems too fast there."
Holthaus said the school places a placard sign up that "closes" the street to through-traffic, but it is more of a suggestion and not an official city-sanctioned closing.
"It's still legally open for travel and I guess I'm just asking parents and others to choose another option," she said. "It can be really scary, especially when 500 kids go out of here. It's just very difficult to watch everyone at once."
The school has three teachers on duty at the close of school and has placed colored dots behind the chain where students must remain until they are released for bus pickup.
"This has helped, but it's still not enough – we just really want to ask people to avoid Court Street during drop-off and pickup," she explained. "It's for the safety of our kids, no other reason."
Holthaus said there are other options including stopping by the office on Idaho Street or using A and Lake streets by the playground/fence area at the back of the school.
"Both of these are good, safe alternatives," she emphasized.
The busiest time for activity around the school is at the end of the day, Holthaus said, between 3:10 and 3:30 p.m.
The GEMS principal also asks that parents wanting to make different arrangements for the transportation of their children after school should call the office no later than 2:45 p.m.
"We know plans change, but we need a little leeway to have the time to contact students," she said.
For questions call Holthaus at 983-0400.