Woslum Graduates
BOISE — Ashlei Marie Woslum, a former Grangeville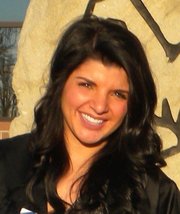 student, graduated midterm from Boise State University with a bachelor of science degree in pre-med. While pursuing her baccalaureate degree at BSU she was also the head coach of the cheerleading squad at Eagle High School. Her future plans include medical school starting in the fall of 2014.



She is the granddaughter of Edd and Leanne Woslum of Grangeville.
Sisters on honor roll
EDMOND, Okla. – Sisters Bailey Schwartz Pletcher and Madeline Schwartz each made the honor roll at the University of Central Oklahoma with 4.0 GPAs.
Pletcher is a senior majoring in marriage and family and graduated from Grangeville High School in 2009. Schwartz is a freshman in general studies and graduated from GHS in 2013. The sisters are the daughters of Danny and Dixie Schwartz of Grangeville.