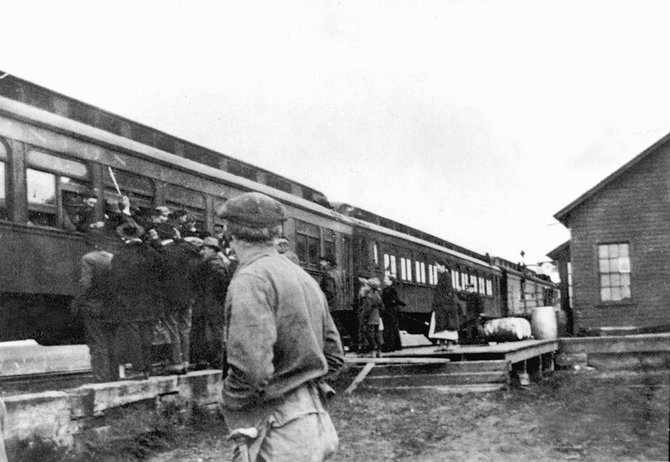 10 YEARS AGO
JANUARY 14, 2004
•A former deputy for the Idaho County Sheriff's Office, Robert Murray, is working for a private company, DynCorp International, as a police adviser/trainer in Baghdad, Iraq. He is a Kooskia resident. This is one example of private sector service trying to establish law and order within this former Middle Eastern dictatorship.
•Jeff Scott, 36, recently took over as Avista manager at the Grangeville office.
20 YEARS AGO
JANUARY 13, 1994
•Maureen Tacke, second-grade daughter of Cliff and Sue Tacke of Cottonwood, is enjoying the attention that is coming her way as a result of winning a statewide coloring contest.
She will find her Christmas art used as the Idaho State Department of Education's holiday greeting card in 1994.
30 YEARS AGO
JANUARY 11, 1984
•Al Arnzen has been given unanimous approval to become the new superintendent of schools for District 241 as of July 2, 1984.
•Georgia DeHaas has been made county executive director of the Idaho County Agricultural Stabilization and Conservation Service in Grangeville.
40 YEARS AGO
JANUARY 16, 1974
•Chinook winds gusting up to 60-miles an hour swept Idaho County Monday, bringing power outages, rapidly melting snow and heavy rain showers.
50 YEARS AGO
JANUARY 16, 1964
•The new Imperial Coffee Shop & Dining Room will celebrate its formal opening Saturday.
•Members of the Idaho County Wildlife Association report members are discussing the possibility of creating an artificial lake for recreational purposes near Grangeville.
60 YEARS AGO
JANUARY 14, 1954
•Moving operations of Grangeville Branch of the First Security Bank will be completed this week.
•George Foster, pilot, made a mercy flight to Boise for plasma to save the life of Addie von Berge, area pioneer.
70 YEARS AGO
JANUARY 13, 1944
•Fourth War Bond drive starts Tuesday. People of Idaho County are asked to loan $340,000 to help win the war.
•About 3,000 pounds of scrap paper were collected by school children in Idaho County.
80 YEARS AGO
JANUARY 11, 1934
•Persons having old clothes that could be made over for additional service, or old mattresses or any material that could be used in relief work, are asked to send them to the women's headquarters of the county. This material is to be used to furnish work to the unemployed women of this county. This material is to be used to furnish work to the county and later to be given for relief.
90 YEARS AGO
JANUARY 17, 1924
•General scarlet fever quarantine was lifted from the Greencreek district by Dr. B. Chipman. About 12 families are still under quarantine.
Sahara has nothing on Cottonwood. The community is dry as a bone. Bootleggers shun the town, and even the worst old soaks are memories.
100 YEAR AGO
JANUARY 15, 1914
•Idaho County boasts of having the largest goat head in the world. The prize is owned by W.A. Edwards of Edwardsburg. The horns have a spread of 6-1/4 inches, the right horn was 10-3/4, and left 10-1/4.
110 YEARS AGO
JANUARY 14, 1904
•Passenger traffic between Stites and Grangeville is exceedingly heavy. On Sunday, 25 passengers came up requiring four wagons to carry them.
120 YEARS AGO
JANUARY 12, 1894
•COTTONWOOD – Owing to severe snowstorms of the last week, little business has been transacted in town.
•The chinook wind blew and drifted the snow badly. The stage, with two drivers, was twice lost between Denver and Grangeville.