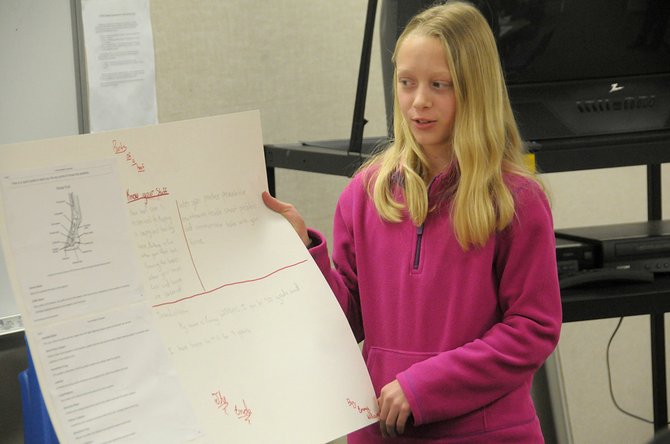 Free Press / Lorie Palmer
Emmy Williams of Rough Riders 4-H Club gives her demonstration on "Parts of a Hoof," Jan. 15.
Cottonwood Senior Citizens
Dolores G. Seubert opened the Jan. 14 meeting with the Pledge of Allegiance. Joyce Forsmann gave the dinner prayer. There were no guests this week. There were 45 meals served with 11 takeouts. Sylvia Forsmann won the free dinner.
Joke tellers this week were Donna Barnett and Hilda Nuttman. Dolores Kindall and Hilda Nuttman split the nickel bingo pot while Katie Remacle won the blackout. Door prizes were won by Elaine Schumacher, Bob Arledge, Dolores VonBargen, Donna Barnett, Dixie Sharrard and Dina Nuxoll.
Menu for Jan. 28: porcupine meat balls, parslied potatoes, lettuce salad, pears, chocolate chip cookie.
This is also the birthday meeting for January and the Old Time Fiddlers will be performing.
3Rivers Amateur Radio Club
Radios were set up at Cloninger's in Kamiah and Clearwater Valley Harvest Foods in Kooskia on Saturday, Dec. 14. Approximately 20 kids of all ages were able to talk to Santa at the North Pole via amateur radio. The club would like to thank both grocery stores for their support.
Elections for vice-president and secretary for two-year terms were held at the January meeting. Election of president and treasurer for two-year terms will be next year.
The January meeting was at 6 p.m. on Tuesday, Jan. 14, at the Pine Ridge Baptist Church at the top of Hill Street in Kamiah. Amateur radio examinations were conducted. For club information, call Bob Finch at 926-4155. For examination information, call David Brainerd at 926-7886.
Big Cedar Homemakers
On Dec. 8, 12 members of the Big Cedar Homemakers Club met at the gorgeously decorated home of Lorna Olsen for their annual election of officers and Christmas party. All members arrived with sacks and boxes of items for the Kooskia Food Bank.
Members celebrating birthdays prior to the next meeting were: Madelon Gribble on Dec. 12, and Susan Stephens on Jan. 4. Ellis and Varrell Jackson celebrated their wedding anniversary Dec. 12.
Those present were brought up-to-date on several members recently hospitalized or suffering losses. And everyone felt the absence of Jo Alexander who has recently moved to Colorado. 
Elections were held with a unanimous vote for our new vice president, Kris Perry, and new secretary, Irene Finehout. Becky Shultz volunteered to act as back-up secretary for Irene, and Kris Perry had also agreed (in November) to be the new historian. Madelon Gribble automatically moved into the presidency (having been vice president during 2013). And Susan Stephens graciously — once again —agreed to remain as our dedicated and efficient treasurer.
—Sara Schroeder
Grangeville Senior Citizens
The Jan. 13 meeting was opened with the Pledge of Allegiance led by Alta Clark and the prayer by Larry Clark. Charlene Schumacher won the free dinner. There were 64 meals and 32 takeout meals served.
Jokes were told by Larry Clark. Bingo winners were the nickel pot by Marie Pettit, and blackout winners were Betty Stoorza and Katie Remacle.
A board meeting will be held Jan. 14.
The Jan. 17 meeting was opened with the Pledge of Allegiance led by Stan Modrell and the prayer by George Kerley. The free dinner came to Douglas Green. There were 66 meals served with 28 takeouts.
Jokes were told by Larry Clark. Nickel bingo winner was Mel Willis and blackout winner was Jeannette Chelini.
The menu for Jan. 24: German sausage and sauerkraut, steamed red potatoes, steamed carrots, German coleslaw, breadstick, peaches, rainbow sherbet; Jan. 27: broccoli and cheese casserole, black-eyed peas, fruit cup, biscuit, dessert.
Hold Your Horses 4-H Club
Hold Your Horses held its third organizational meeting Monday, Jan. 13. The next meeting is set for Monday, Feb. 10, where we will be making Valentine's Day cards for the nursing home residents. On Feb. 14 we will be handing out the valentines along with singing and playing instruments at the nursing home. Enrollment is due by March 1, so get your paperwork in! Our first ride will be March 27 in White Bird.

—Tristan Yocum
Rough Riders 4-H Club
Rough Riders 4-H Club met Jan. 15 at GEMS Community Room. Those present were Rachel, Kortney, Macenzie, Hailey, Kortney, Bella, Micaela, Kayla, Colby and Emmy as well as leaders Lisa and Debbie, parents Melissa, Lorie and Amanda, Grandma Jodi and guest Tate.
President Rachel led the meeting. Kortney led the Pledge of Allegiance and Hailey led the 4-H pledge. Roll call by secretary Bella was answered with "what was the best part of your Christmas or favorite gift."
Old business included the decision to again help the Camas Prairie Food Bank as part of this year's community service. We will be collecting hygiene items for the food bank through June and plan to volunteer sometime in June. Anyone who would like to donate items can drop them off with Lorie at the Free Press.
Under new business several dates were discussed including: The horse show which has tentatively been moved to later in July and set for July 26; the horse bowl set for March, date TBA; the 4-H party scheduled for April 12; and officer training set for April 22. Several people expressed interest in being on a horse bowl team.
Lisa reported on wearing helmets and that it will be required in 2014 for practice, the show, etc. She gave us a handout on finding the proper fitting helmet.
Emmy gave the first demonstration of the club's season. It was entitled "Parts of a Hoof."
Bella brought Rice Krispie treats and Hailey is set to bring treats in February. The next meeting will be Feb. 19.
— Hailey Russell, reporter