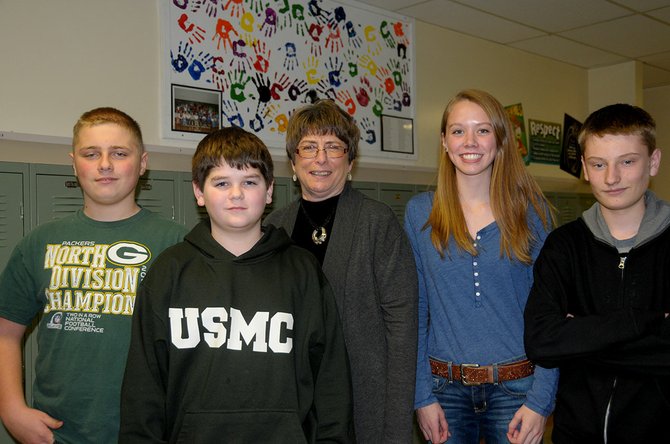 Photo by Lorie Palmer
Pictured (L-R) are Grangeville Elementary Middle School eight grade students Justin Biebow, Wyatt Perry, teacher Betty Nafziger, Kally Arnzen and Tyler Stephens. Perry recently won a Daughters of the American Revolution regional essay contest and Biewbow, Arnsen and Stephens were awarded "exceptional essay" certificates.
GRANGEVILLE — Eighth grader Wyatt Perry was the winner of a recent Daughters of the American Revolution (DAR, Lewiston-Clarkston branch) essay contest.
"I got all my information from my social studies book," said Perry. "It's actually pretty interesting."
The directive was to write an essay as a child during the American Revolution. Perry wrote as a son who accompanied his father to Lexington-Concord and subsequently has to tell his mother about his father being killed there.
Social studies teacher Betty Nafziger used the contest as an assignment while her classes were learning about the American Revolution.
"Besides content — being historically accurate — they also had to type their entry and include a bibliography," Nafziger explained. She sent all class essays to the competition.
The contest organizer sent Nafziger a letter stating Perry was the chapter winner and also commended Kally Arnzen, Justin Biebow and Tyler Stephens for "exceptional essays" and sent certificates for all four students. Perry and his parents are invited to the February meeting of the DAR where Perry will be able to read his essay and will be awarded there. His work will then be forwarded on to the state contest.
Perry is the son of Brian and Lark Perry of Grangeville.