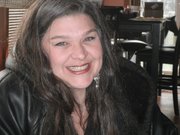 WHITE BIRD — There's not a whole lot going on around here. The old world keeps on turning, the sun continues to rise, and the seasons keep coming. This January spring has been wonderful. Dad even found his buttercup already.
Kathy Stefani will be scheduling a piano tuner to come to the White Bird area in the near future. If you would like to get your name on the list, contact her at 839-2220.
The patrons of the Silver Dollar have decided that they are going to have a potluck dinner after the cribbage tournament this Saturday. It will be in honor of all those born in January. Then, after this one, there will be a potluck on the third Saturday of every month in honor of that month's birthdays. The potlucks will always be right after crib. What a great idea! There's nothing better than a White Bird potluck. So, bring a dish and share a meal with your neighbors.
The cribbage tournament on Jan. 11 brought in 18 players. Roy took first and Dot got second. Last weekend there was a great turnout with 24 players. Real won first and Christi got second. Join in next Saturday to try your hand.
Well, Colorado and Washington are going to the Super Bowl. Since both of these states have legalized pot, we have decided to rename it the Stoner Bowl. There will be potlucks at both the Silver Dollar and Mac's, with loud T.V's for you to enjoy the game. Come join in the fun.
We're going to Vegas! Sean and I are going to the Las Vegas gift show all next week, to find new goodies for Canyon House. I can't wait to see what's new on the market this year. You'll have to come into the store after we get back and see what we discover. Or, go in while I'm gone and get some great deals on what we already have, because we need to make room for the new! If you would like to donate to our gambling fund, there's been an account set up at the drive-thru window on Canyon House.
I hope everyone has a great week. I wish you all many blessings and I'll be back in touch before Valentine's Day. Hold down the fort for me.
Happy birthday this week to: Melvin Cash, Kurt Urbahn, Gina Heath, Randy Zumwalt, the lovely Jenny Hanson, Roy Alen Farmer, Shayla Wassmuth, Bryson Robinett, Heather Kunkel, Dave Hueth, Jim Goulette, Eric Martin, Bill Spicklemire, Carolyn Anderson, Jon Taylor and Cody Farmer.