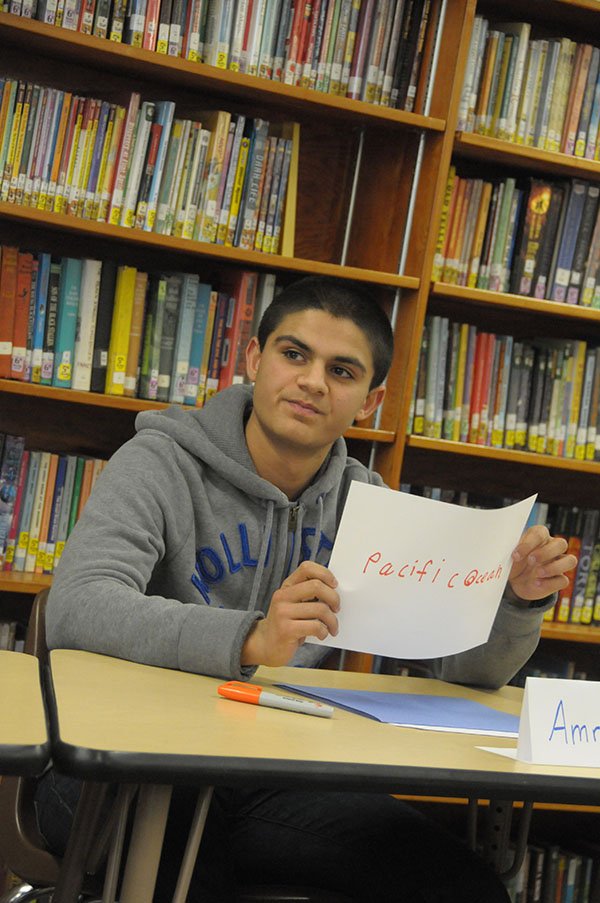 Photo by Lorie Palmer
Amrit Singh of Grangeville Elementary Middle School, eighth grader, won his 2014 school bee.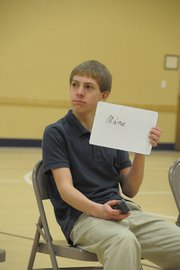 GRANGEVILLE — It's a three-peat for Grangeville Elementary Middle School's Amrit Singh while Sts. Peter and Paul's Ethan Bonn is on his first round. The eighth graders were each winners in their school's geography bees this month.
Singh, the son of Ken and Dolly Singh, came in as champion for the third year in a row Jan. 16. In second place was Ryan Ruklic – whom Singh has met in the championship round for the past three years. Third was Justin Biebow. All are eighth graders.
"The Taklimaken Desert is home to the Uyghur people of the Kerala Mountains in which Asian country?" was the round three question of the championship round that finally stumped Ruklic when he answered "Mongolia," while Singh came up with the correct answer of "China."
The duo duked it out for more than eight rounds first and were competing against fifth graders Kara Sanders and Owen Rucklic; seventh grader Chloe Dame; and fellow eighth graders Kally Arnzen, Jordan Reuter, Easton McEwan, Tyler Stephens and Biebow.
Questions started with U.S. geography including "Hoover Dam, which supplies water and power to parts of Arizona, Nevada and California, is located on what river?" (Colorado) and the contest encompassed oral and written questions as well as questions answered with a map handout.
Sixth grader Jeff Williams and Bonn went up against each other in the championship round with both answering "The city of Portland is the eastern terminus of a pipeline connected with Montreal, Canada, located on Casco Bay in which New England State?" with Maine as the correct answer. However, it was Bonn who held out with the answer "Indonesia" to the question regarding the islands of Madera and Bali.
"I knew the answer because I watched 'Road to Bali' starring Bing Crosby and Bob Hope," Bonn told the bee audience at SPPS Jan. 8. He is the son of Joe and Joanne Bonn.
Also competing were fifth grader Reece Wimer; sixth grader Jesus Perez; seventh graders Paige Lindsley, Steven Goldman and Rachel Chmelik; and eighth graders Amador Perez, Brenda Gomez and Rebecca Kaschmitter.
All students had to come in as the top 10 in their schools in grades four through eight in a pre-bee competition to be in the contest. Now, winners Singh and Bonn will take written tests and must score in the top 100 in the state to represent their schools in the state bee.
In 2013, Singh was winner of the Idaho National Geographic Bee and went on to represent the state in Washington, D.C.