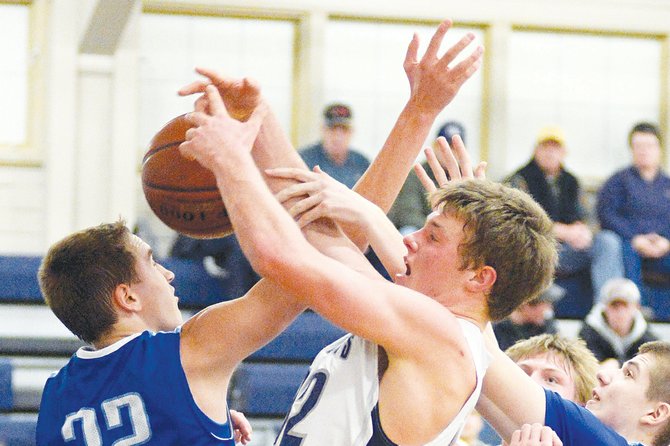 Photo by Andrew Ottoson
Bulldogs senior Alex Koberstein battles Colton's Dalton Patchen (blue 32) for an offensive rebound during the second half of Grangeville's Monday night, Jan. 20, victory over the Wildcats. Koberstein finished with four points that night, and totaled six boards against league foe St. Maries earlier in the week. "We're giving up size, but we're doing a pretty good job in the post," coach Skip Hall said.
A dozen and one days after playing a double-overtime thriller at Colton, the Bulldogs made swift work of the Wildcats on Monday night, Jan. 20. While the home floor afforded the usual advantages, the Bulldogs appeared far more polished in a 51-35 win than they did two weeks ago.
"We're in control, and we're playing confident now," coach Skip Hall said Tuesday. "We played a very good game with more discipline on offense."
Grangeville had been generous with the ball — turning offensive breakdowns into extra possessions for the opposition. But with the motion offense running smoothly, Grangeville's defense kept Colton corralled throughout the first half.
Colton scored just 12 points during the first two quarters. In their doldrums, the Wildcats managed only four points during the first six minutes of the contest. Colton put together a 6-3 burst, but stalled again after committing a technical foul after a layup by Grangeville's Austin Parks.
Leading 25-12 at halftime, GHS put the ball in the hands of one of the state's foremost all-around athletes and basketball players: Michael Wilson.
"There isn't a guard in the state who can guard him in the post," Hall said.
Wilson started heating up with a layup on a dribble drive and made it 29-16 with a putback the next time down. He was fouled but converted another layup with about five minutes left in the third quarter. He knocked down a mid-range jumper on Grangeville's next possession.
Colton lingered within 35-23 late in the third quarter, but the Bulldogs lead reached 15 when Wilson finished an alley-oop lob from Layton Harris.
"We executed that play very well," Hall said.
Patchen created a few baskets off of touches in the high post, but was held to 14 points as Grangeville "defended him very well in the low post," Hall said.
GHS senior forwards Alex Koberstein and Jasper Sabatino scored four points apiece while keeping Patchen in check.
Wilson finished with 16 points, and Josh Dame kicked in 12.
On Saturday, Grangeville converted six three-pointers — "that was exceptional," Hall said — and the Bulldogs used 18-12 and 17-8 stints during the first and third quarters to pull out a road win over Central Idaho League foe St. Maries.
Parks scored five baskets including two treys, and created six more scores with his passes.
"We shot one-for-nine on threes last night [against Colton], which is unacceptable," Hall said. "But on any given night we've got the ability to really shoot well."
Coming — Grangeville (10-3, 3-0 CIL) will host Coeur d'Alene Charter on Saturday, Jan. 25, at 2:30 p.m.
"We're in control," Hall said. "We win two more, we've got the league locked up."
GHS hammered Charter 65-20 in the previous meeting, Jan. 4 — and Hall insisted the Panthers will be in for another tough game. "We're going to be well-prepared," he said.