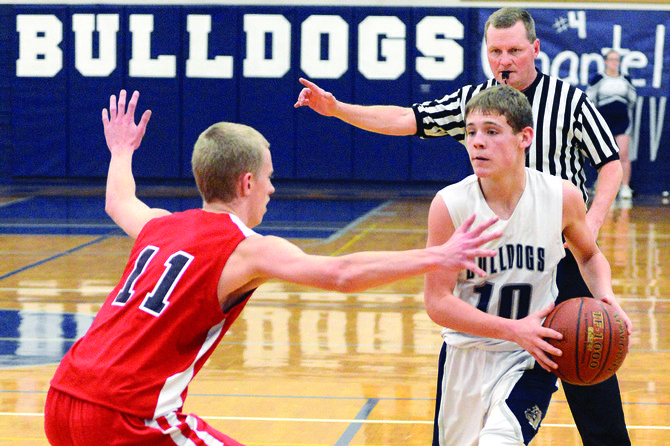 Photo by Andrew Ottoson
Grangeville's Austin Parks keyed an overwhelming run of offense for GHS, which scored the first 19 straight points of Saturday's league game against Coeur d'Alene Charter. Before the visitors lit their side of the scoreboard on Jan. 25, Parks capped the spurt with a corner trey, but most of the early offense came on layups following turnovers. Charter finished with fewer points (19) than GHS scored in the first quarter.
The Bulldogs made short work of a Central Idaho League foe with a 19-0 start en route to a 53-19 win over Charter last Saturday, Jan. 25, leaving only Orofino to stand between Grangeville and the CIL title.
Josh Dame scored 22 points in the contest. Austin Parks capped the 19-0 run with a trey from the right corner, after which Charter forced its way to the foul line, where the Panthers finally broke through.
Coming — Now GHS (11-3, 4-0 CIL) shifts its full attention to an Orofino (7-5, 3-1 CIL) squad that nearly derailed Prairie's unbeaten season last Tuesday night, Jan. 23. Grangeville is set to see Orofino twice in rapid succession as the regular season closes.
The Bulldogs hosted the Maniacs after the print deadline last Tuesday night, Jan. 28; see idahocountyfreepress.com for a report on that game.
Grangeville will host Cascade (7-6, 5-1 Long Pin Conference) on Friday night, Jan. 31, with the varsity tipoff set for 7:30 p.m.
The home stand will continue at 7:30 p.m. next Monday night, Feb. 3, with a visit from Clearwater Valley (4-9, 4-8 Whitepine League).
But should the Maniacs have found a way to win the Tuesday night game, the CIL title would hinge on the second Grangeville-Orofino meeting, which is slated for 7:30 p.m. Friday, Feb. 7, at OHS.
Grangeville has two non-league home games left after that: Genesee Feb. 12, and Kamiah Feb. 15.