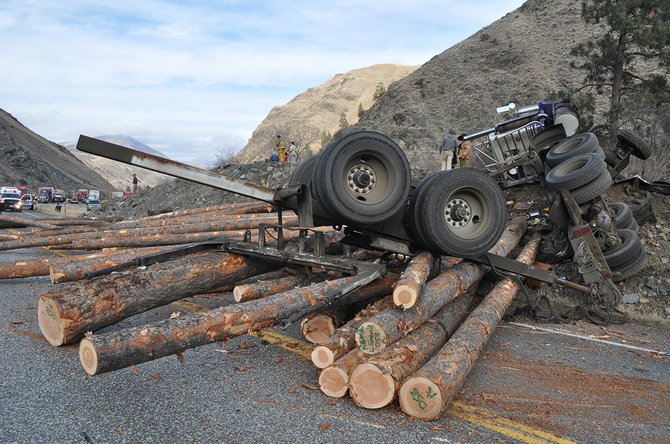 Photo by David Rauzi
An overturned log trailer sits atop a pile of logs spilled across U.S. Highway 95 at the north entrance to Pollock Monday afternoon, Jan. 27, following a semi-truck rollover. The driver, Michael J. Clure of Horseshoe Bend, was transported to McCall for treatment.
POLLOCK – A Horseshoe Bend man suffered injuries following a rollover accident at Pollock Monday afternoon, Jan. 28, that blocked U.S. Highway 95 for approximately two hours.
Michael J. Clure, 60, was transported to St. Luke's McCall Hospital. Patient status was unavailable.
The crash was reported at 1:30 p.m. at milepost 190, five miles south of Riggins, according to Idaho State Police. Clure was driving a Kenworth semi-truck with a loaded log trailer northbound when he drifted off the right edge of the road, sideswiping against the guardrail at the Little Salmon River Bridge. Clure continued across the bridge, pressed up against the guardrail, and when the rail swept to the right the semi-truck followed along. The vehicle then left the rail, angled to the right, and struck the rocky embankment and overturned.
Logs spilled during the accident blocked both lanes on U.S. 95 until an Idaho Transportation Department crew cleared the southbound lane at 3:30 p.m.
ISP Trooper Wally Youngren investigated the crash with assistance from Idaho County Sheriff's Deputy Chris Williams, Salmon River Rural Fire Department and Riggins Ambulance.