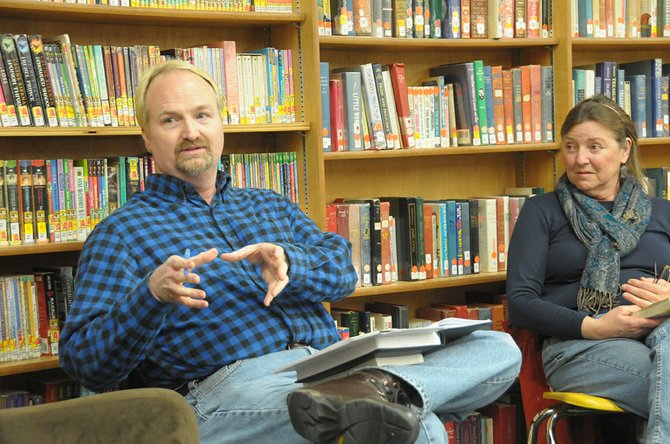 Photo by Lorie Palmer
Steve Barrett of Boise State University talks with those attending the Let's Talk About It book program at Grangeville Centennial Library Jan. 21. To his right is attendee Michelle Perdue of Grangeville.
GRANGEVILLE — Fifteen people gathered last Tuesday night at the Grangeville Centennial Library to discuss the book "Letters of a Woman Homesteader" by Elinore Pruitt Stewart as part of the state's Let's Talk About It reading program.
"Homesteaders were only the original owners of the land – not those who the land was sold to after the earliest persons had already proved up the land," explained guest scholar Steve Barrett who teaches American Literature at Boise State University.
Barrett went on to explain the Homestead Act did "no favors" for American Indians, though they were not specifically mentioned in Stewart's book.
"I thought she was quite a character," said attendee Kristin Frish of Cottonwood about the escapades Stewart wrote about in the form of letters to her former employer.
The group discussed the benefits of journaling and letter writing. Group members Michelle Perdue and Shelley Dumas of Grangeville said they each write letters regularly.
"I would urge all of you to keep copies of your letters if you write them," Barrett said. "These can be especially valuable from a historic standpoint. Include information on your community, politics and things happening in the nation. Those items are very interesting to read and tie together at later dates, even if it's simply for the interest of your own family."
The next book on schedule to be discussed Feb. 11 is Refuge by Terry Tempest Williams. The scholar facilitator for this discussion will be Matthew Haynes, assistant professor in the English department at College of Western Idaho in Boise and teaches literature, film, humanities, creative writing and composition.
Those interested in joining the group – all, one or specific books that hold interest – are invited to stop by the library at 215 W. North Street. Call 983-0951 and ask for Debbie Urquhart or e-mail durquhart@grangeville.us.
The additional reading list is as follows:
•Tuesday, March 4, 5:30 p.m., This House of Sky by Ivan Doig (scholar: Wendy Green)
•Tuesday, March 25, 5:30 p.m., Hole in the Sky by William Kittredge (scholar: Barbara Meldrum)
•Tuesday, April 15, 5:30 p.m., Reservation Blues by Sherman Alexie (scholar: David Barber)