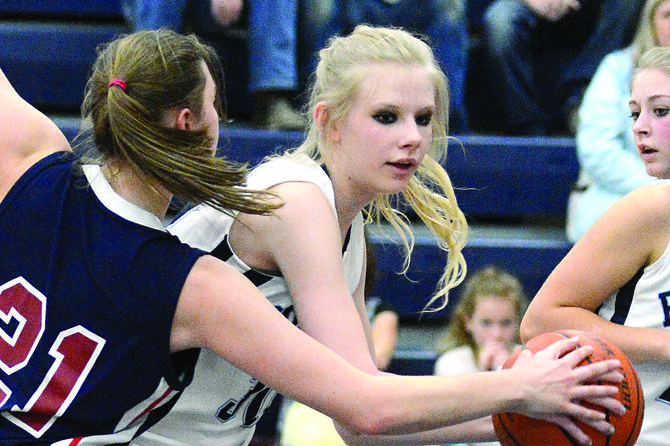 Photo by Andrew Ottoson
GHS senior Faith Bieler controls a rebound and fends off Coeur d'Alene Charter's Anna Verhaeghe during the second half of Grangeville's 60-18 rout of the Panthers last Saturday, Jan. 25. Grangeville clinched the Central Idaho League title with the win. Grangeville's postseason will begin at the district tournament on Feb. 8 at Troy.
About five minutes into their league title-clinching win against Coeur d'Alene Charter last Saturday, Jan. 25, Grangeville let the visitors back into a game they had dominated from the opening tip-off. But following a timeout after Charter cut Grangeville's lead down to 12-10, the GHS girls rediscovered their intensity — and then some.
Photo Gallery
Grangeville vs Charter Girls Jan. 25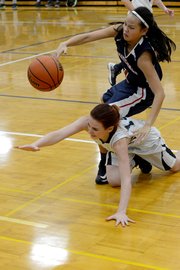 They did not allow another point — not one field goal, not one free throw — until after halftime.
During its surge, Charter had created its baskets with point-blank chances in the paint. During Grangeville's surge, the Panthers couldn't pierce the GHS perimeter.
With 14 steals in the contest, GHS senior Chantel Key helped turn the second quarter into a layup line. Grangeville outscored Charter 22-0 during the frame and 30-0 during the stretch which spanned the late first and early third quarters.
Key tallied 19 points and four others scored eight points apiece: Kaleala Bass, Madison Brown, Lizz Forsmann and Hailey Sullivan.
The Charter win included, Grangeville allowed a total of 58 points during three wins last week — and scored nearly 58 per game of their own.
Their 55-26 win over Clearwater Valley Jan. 21 might have been a bit closer but for the Rams' loss of standout Felicia Reuben, who was felled by a leg injury in the first quarter, which she sustained while dribbling under Key's pressure.
Coming — Grangeville (14-3, 5-0 CIL) will visit Lapwai, 7:30 p.m. Friday night, Jan. 31 and visit Orofino, 7:30 p.m. Monday night, Feb. 3.