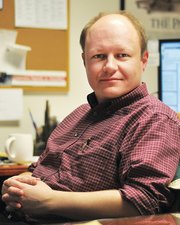 The old town gets a little busier during Border Days, what with all our returning kids and friends showing up for reunions and some general holiday malarkey. For all the homegrown folks – and for us somewhat seasoned transplants from elsewhere – we've got the unique characteristics down for this rural Camas Prairie town (and all our rural neighbors in Idaho County).
But maybe you're a new face, just moved into town or forced for a visit due to the horrors of courtship or marriage or other contact sports? Just what is going on here? And what are these hicks doing? And is that one packing a gun?
Well, we've got a few things to share, courtesy of our humble experience and that of a few of our readers.
"Don't start a romance with a local," says Marie Smith of Lowell. "We would end up with kids running around with camouflage Bermuda shorts and flip flops instead of hunting boots. The couple would be driving a BMW with a luggage rack for their elk quartered out and they'd be eating squirrel stew on top of couscous! Kinda scary! Not to mention they'd be drinking Jack Daniels out of a champagne glass."
"Goat walking is an accepted form of responsibility here in town," says Reyna Phillips of Grangeville.
And speaking of livestock in town, you're sure to be seeing soon the regular parade of sheep (and yeah a few goats) through the streets as kids exercise their animals for the Idaho County Fair next month. But no livestock in town, which includes chickens (… and that's odd when you consider all the urban areas embracing urban animal husbandry), so just ignore the clucking on the other side of the fence; nothing to see here. Yep, no chickens in town.
"I've never lived anywhere where the 4th of July sounds like a war zone from 9 p.m. to midnight," adds Patrick Phillips of Grangeville.
And speaking of fireworks, it may be "safe and sane" on the city code, but we're more than sure the "likely to lose fingers" light show our neighbors are putting on came from those stands on the reservation down at Kamiah and Lapwai (Yeah, you've been there.). The official city fireworks show starts at 10 p.m. on Friday, but you're hard-pressed to tell it at times from the "Iraq invasion kits" folks are launching off. Keep your dogs close, as they're likely to freak, and expect what ordinance doesn't get fired off this week to be finished up New Year's Eve.
For many of our city cousins, the town's solitary stoplight – the only one between Lewiston and Weiser (OK, now that's a funny name; not as funny as Athol, but we'll stop there) is a great source of fun; yeah, ha, ha. But we still like to gripe about the wait for it to turn green, and we'll go a few blocks out of our way to beat the wait (Yeah, locals, you know you do that).
And what to do while waiting for the rodeo or in the food lines? Why not engage in some conversation. It's a pretty proud red county in a red state, so all you left-wingers out there likely have some incendiary topics to get the party moving (and maybe some beer cans flying). We're, of course, not encouraging any mayhem, but we're certainly looking forward to the extra news resulting from this for next week's crime report.
Just a few things to set straight:
No, the empty Keystone Light can is not the official Idaho County rock. Yes, that is a gun you see on that woman's hip … and there's a bunch more packing concealed weapons; we like our guns here (… another icebreaker topic we'd suggest for our left-of-center friends out there). Yep, there's a parade and street sports for three days (I mean, what ELSE are you gonna do here, apart from collecting Keystone Light cans?) And this ain't Las Vegas; this is gossip central: What happens here – the rodeo, concert, egg toss, family reunion – doesn't stay here but becomes fodder for Facebook.
All set? Yeah, like you even read this far. But if you did, enjoy your time here, and we'll be seeing you downtown.