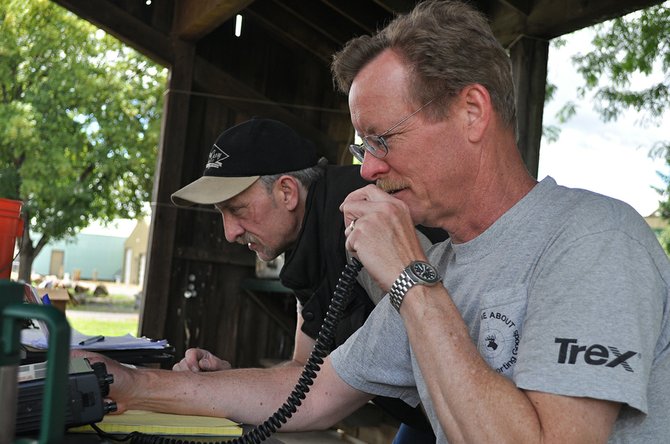 Photo by David Rauzi
Dialing in a frequency to make contact with other amateur radio operators last Saturday, June 28, were (front) Brian Davis of Kooskia and (back) James Cox of Grangeville.
KAMIAH – Antenna sprouted among camp tents at Kamiah's Riverfront Park last weekend, harvesting voices across the airwaves for the annual American Radio Relay League (AARRL) Amateur Radio Field Day exercise.
Members of 3Rivers Amateur Radio Club spent a 24-hour period from 11 a.m. Saturday to 11 a.m. Sunday (June 28-29) attempting to contact other hams in a dual-purpose event meant to test communications during field conditions, and to demonstrate this ability to the public.
"It's a test of our capabilities, and we have a lot of fun at it," said Ken Tuning. The Woodland resident is the founder and past president of 3Rivers Amateur Radio Club, and the ARES (American Radio Emergency Service) emergency coordinator for the three county – Idaho, Lewis, Clearwater – area.
The idea at Field Day is to demonstrate how this communication functions in a self-sustaining manner: batteries charged by solar power operate radios broadcasting from portable antennas that can be quickly set up anywhere and access an extensive range of frequencies. In disaster incidents, oftentimes existing communications infrastructure is overloaded or put out of commission due to damage.
Hams provide the communications backup to coordinate emergency response, as well as deliver messages in and out of a disaster area. Licensed through the FCC, hams have the expertise and training to provide this service that is boosted by a resource of approximately 720,000 amateur radio operators – in the U.S. alone – to draw upon.
The 3Rivers club hosted one of the 20 Field Day events held in the state that involved more than 225 operators.
According to 3Rivers Vice President David Brainerd, in last weekend's event the organization used four transmitters and made a total 248 contacts in 38 states and five Canadian provinces. This was down from last year's event, held at Fish Creek Campground outside Grangeville, where they made 369 contacts in a total of 45 states, three Canadian provinces and Puerto Rico. This may have been due to conditions in the ionosphere or their high elevation location last year.
"We had a good time," Brainerd said, reaching as far west as Alaska and Hawaii, and as far east as Vermont. More than 30 people – both members and visitors – participated in their event.
Started in 2009, the 3Rivers club has approximately 35 members that extend from the Clearwater Valley area – including Kooskia and Kamiah – to the Camas Prairie. Members provide communications for not just emergencies but also community events such as the Salmon River Jet Boat Races at Riggins and the Kooskia Days Fun Run; and they also provide both training and testing for those seeking their FCC amateur radio operator license.
For information about amateur radio operators in the region, contact Brainerd at 926-7886, or 3Rivers President Bob Finch, 926-4155.