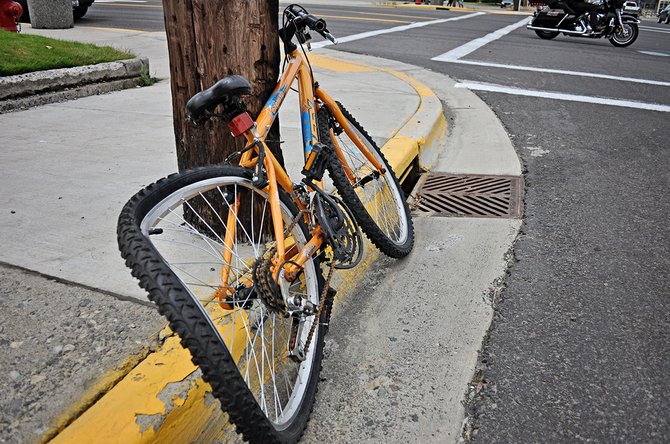 Photo by David Rauzi
Sangray's damaged bicycle following the accident.
GRANGEVILLE – Investigation has determined an injured juvenile bicyclist was at fault for last week's collision with a pickup.
As a result of this incident, the Grangeville Police Department (GPD) and Grangeville Elementary-Middle School will be working together to offer a bicycle safety program, according to GPD Chief Morgan Drew. The department currently works with Kids Klub on an annual bike safety program.
Wyatt Sangray, 9, of Grangeville, was transported by LifeFlight to Sacred Heart Medical Center in Spokane, according to an official with Syringa Hospital. Due to the victim's minor status, the Spokane hospital would not confirm he was under treatment at their facility.
The crash was reported last Wednesday, June 25, 2:02 p.m., at the intersection of Main and South College streets, regarding a boy had been run over by a vehicle. According to a GPD report, Richard L. Johns, 72, of Grangeville, was driving a Dodge pickup east on Main Street and started to make a right-hand turn onto South College Street in front of Sangray who was eastbound riding a bicycle on the sidewalk. A witness reported Sangray was traveling too fast to stop once he noticed the truck was turning, and at that point Sangray struck the side of the vehicle in front of the passenger rear tire and slid under the back of the truck.
The pickup had partially stopped on Wyatt's torso, and pedestrians started yelling for Johns to stop and pull forward. The pickup then rolled back over Sangray and pulled forward over him. Initially Johns was unaware he had hit someone, according to the report, thinking he had hit a road cone until he exited the vehicle and realized it was a person.
According to the report, Sangray had been riding his bicycle on the sidewalk, and had failed to yield at the intersection or properly use a crosswalk, all in violation of city ordinances, causing the collision.
"This is an unfortunate incident that serves to illustrate why it is vitally important that not only motor vehicle drivers know and follow the rules of the road but that bicyclists and pedestrians also know and follow the rules of the road," said Chief Drew.
Drew noted, as per ordinance, no bicycles can be ridden on the sidewalk of Main Street in the business district, and that signs are posted in the business district stating that bicycles, skateboards and rollerblades/skates are not allowed on the sidewalk. 
"Bicycles are allowed on Main Street as long as they are ridden in the roadway and in accordance with all of the applicable laws and rules of the road," Drew said. "Bicyclists travelling upon the roadway are governed by the same laws as motor vehicles. Bicycles that are travelling at a speed slower than that of normal traffic must ride to the far right side of the lane of traffic."
Investigating the crash were Grangeville Police officers Quintal and Sgt. Andy Beene, assisted on scene by Syringa Ambulance EMTs and passersby.