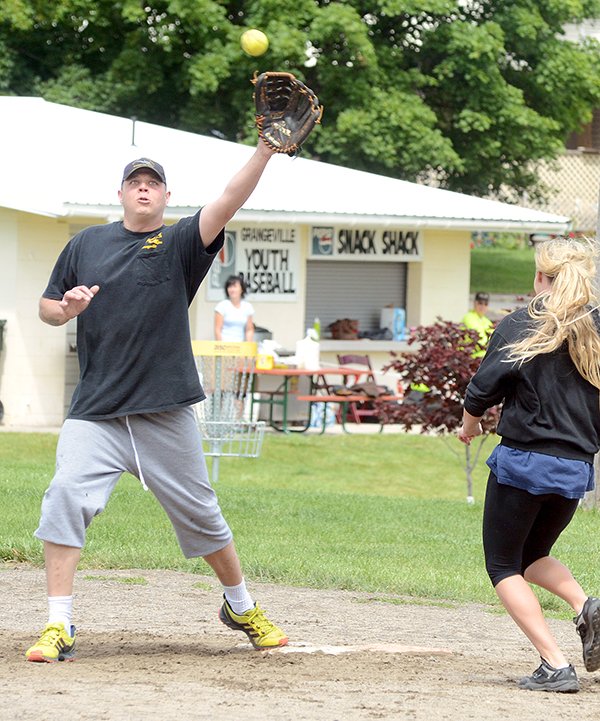 Photo by Andrew Ottoson
John Cline of Grangeville snags a high throw at the first Warbird Weekend softball tournament fund-raiser last Saturday, June 28, at Lions Park.
Wild and scenic rivers, lush forests and mountain vistas make the Nez Perce-Clearwater National Forests a natural choice for July 4 visitors. Here's the latest on the forests' facilities:
Campsites
Reserveable campsite options are: O'Hara Campground, located seven miles east of Lowell along Selway River Road; Fish Creek Group Site, eight miles south of Grangeville past the Fish Creek Meadows Campground; South Fork Group Use Site #5 at the South Fork Campground located on Highway 14, east of Grangeville; Wilderness Gateway, 49 miles east of Kooskia along U.S. Highway 12; Powell, 12 miles west of the Idaho-Montana state line along Highway 12; and Elk Creek, one mile north of Elk River. Call toll free at (877) 444-6777, or reserve online at www.recreation.gov.
Campgrounds with good access and sites for RV campers include O'Hara, Fish Creek, South Fork, Castle Creek, Spring Bar, Powell, Wendover and Whitehouse (a few miles west of Powell), Wilderness Gateway and Elk Creek. Powell and Elk Creek also have several electrical hookup sites.
On the Powell Ranger District, Elk Summit Campground remains snow-covered in places, making the camp loops inaccessible and the Jerry Johnson Campground is closed for the season.
Roads
The Magruder Corridor Road 468 is open to mile marker 10.5 on the west side and closed after that by snow. Contact the Red River Ranger District, 842-2245, for updates.
All roads on the Salmon River Ranger District are open except the Free Use Road 243, Nut Basin Road 441, Seven Devils Road 517, and Square Mountain/Gospel Road 444, are closed to the snowline.

All roads along the Highway 14 Corridor are open, except the historic Elk City Wagon Road 284.
Current road and trail conditions are located on the Nez Perce-Clearwater National Forests website at: http://www.fs.usda.gov/alerts/nezperceclearwater/alerts-notices.
Trails
Many Forest trails below 6,000 feet in elevation are snow-free and accessible, although visitors should be prepared to encounter high creek crossings, downed trees and debris.
Check with local ranger districts for a complete listing of trails that have been cleared to date. For safety's sake, and to protect sensitive plant life, trail users are asked to stay on trails. Always yield to stock.
A guide is available online at: http://www.fs.usda.gov/activity/nezperceclearwater/recreation/hiking.
Fire information
As of Tuesday, July 1, the Forest Service had reported no fires in the area, nor any fire-related closures.
"A polite reminder: fireworks are not allowed on the Nez Perce-Clearwater National Forests," the forests noted in a news release. "We would like to remind visitors and campers that the use of all fireworks and other pyrotechnic devices is prohibited on almost all national forests regardless of weather conditions or holidays."
Contact the Nez Perce-Clearwater National Forests, 935-2513 or online at http://www.fs.usda.gov/nezperce-clearwater.
A list of facilities available on other ranger districts is online at idahocountyfreepress.com.