Photo Gallery
A look back at Border Days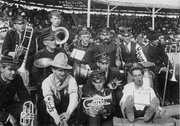 10 YEARS AGO
JULY 2, 2004
•GRANGEVILLE – A local group of investors, Kevin Tomlinson, Dave Wimer and Scott Atkison, has purchased 275 acres of land just south of Grangeville and is working on plans for a new subdivision.
•GRANGEVILLE – There are few Catholic Schools left in Idaho, but due to the dedication of priests and parish members of Saints Peter & Paul's Catholic Church, their school will celebrate its 50th anniversary July 3.
20 YEARS AGO
JUNE 29, 1994
•The new chamber visitors' center has seen an increase in traffic over the old location, averaging 15 to 20 people per day. And the facility has been well staffed with 60 volunteers assisting the regular staff by manning the station allowing for extended service during the summer tourist season.
30 YEARS AGO
JUNE 27, 1984
•One of the fiercest rain and hailstorms in anyone's memory pounded down on Grangeville last Wednesday, while amazed onlookers could only stare and speculate about its intensity.
According to Alice Rickman, the official weather reporter for Grangeville, the storm dumped .93 inches of rain on Grangeville in the first 20 minutes of its falling.
40 YEARS AGO
JULY 3, 1974
•Sharon Creutzberg is the newest salesperson at Gortsema Motors. She recently moved to Cottonwood with her husband and two children.
50 YEARS AGO
JULY 2, 1964
•Steven A. Camp will celebrate his 101st birthday anniversary July 6. He has spent the last several years in Riggins where he had 500 peony plants in his flower garden.
60 YEARS AGO
JULY 1, 1954
•Patricia Rooke was Border Days queen. Her home is at Cottonwood.
•The Grangeville bowling alley is open; alleys are completely overhauled and refinished, according to Gene Ansbaugh, proprietor of Gene's Recreation.
70 YEARS AGO
JUNE 29, 1944
•Mrs. L. Francis Marshall was appointed Idaho County treasurer to succeed Earl E. Rice who resigned. Mrs. Marshall was serving her 10th year as chief treasurer's deputy.
80 YEARS AGO
JUNE 28, 1934
•Glen Farthing, county administrator, announces a federal rehabilitation program is being started in Idaho County, the object of which is to make it possible for families in destitute circumstances to sustain themselves through their own efforts.
90 YEARS AGO
JULY 3, 1924
•A fish hatchery will be built in the foothills southwest of Grangeville. The hatchery will be located on the D.C. Kerlee land and will cost $3,000.
100 YEARS AGO
JULY 2, 1914
•Ben Baker, one of the prosperous farmers of the Harpster section, has had his home completely equipped with a new plumbing system with all modern fixtures, and hot and cold water systems.
•The Western Union Telegraph Company line to Grangeville from Lewiston is being pushed rapidly to completion. The local office will be located in the Imperial Hotel.
110 YEARS AGO
JUNE 30, 1904
•Mrs. Henry Murray was severely bruised last Saturday evening by being thrown from a hack. Mrs. Murray was driving and on crossing the race track east of town the horses became frightened by another team driving up behind them and started to run. They had gone only a short distance when the front axle broke and the occupants were thrown out.
120 YEARS AGO
JUNE 29, 1894
•People of Lake, Adkison and Benz districts will have an all-day meet at the Bentz schoolhouse. After a basket dinner the young people will render a series of music and speaking. Mr. Vercler will take charge. F.L. Buzzell will give the sermon "How Shall We Prevent the Downfall of Our Country?"