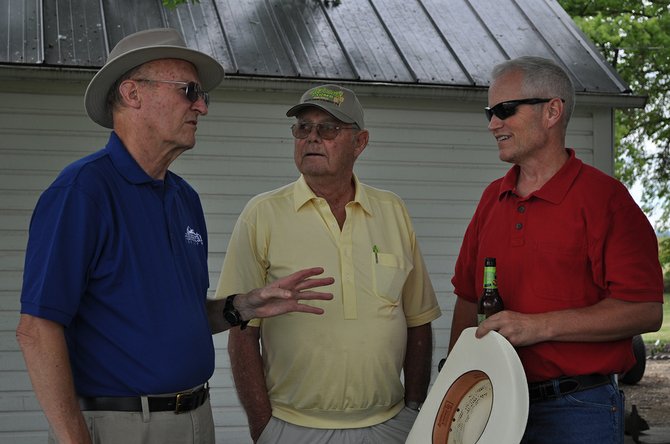 Photo by David Rauzi
(L-R) ISHS board member Earl Bennett talks with James and Mike McDonald prior to last Friday's Century Farm presentation.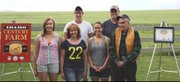 FENN – July 4 was a double celebration for the McDonald family, who gathered Independence Day to also receive the Idaho Century Farm recognition from the Idaho State Historical Society (ISHS).
"We're really proud to get this," said James (Mike) McDonald, Jr., current operator, who said this has been an honor he's wanted for the farm since he was very young. He thanked those family and friends in attendance, adding, "I wish Mom could have been here with us for this. As all farmers know, you can't do this job without your spouse."
The 102-year-old McDonald Farm started under Joseph McDonald, who was born in Illinois in 1864, moved to Minnesota and then South Dakota where he was a hardware merchant in Madison City. To improve his family's life and get into farming he moved to Idaho in 1902, and purchased 320 acres at $31 per acre in the Denver area. The operation turned over to sons J.B. and Earl McDonald in 1916, later to Earl's son, James McDonald, Sr., who passed it to his son, Mike.
The McDonald Farm incorporates between 1,110 to 1,200 acres, and it has produced crops of Kentucky blue grass for seed, winter and spring wheat, canola and barley.
"Like everything else, the economics of agriculture have changed dramatically," said Earl Bennett, ISHS board of trustees member, "and today the trend toward larger and larger farms continues. The anguish over the disappearing family farm or ranch is often heard, but there seems no way to stop the trend toward bigger and bigger. The disappearance of the family farm makes the award we are giving this afternoon all the more important and significant."
More than 400 farms – of those, about 25 in Idaho County – have been designated with the Century recognition since the program began in 1990, jointly with the ISHS and Idaho Department of Agriculture. The program recognizes a farm or ranch owned and operated in Idaho by the same family for at least 100 years, and at least 40 acres of the original parcel of land still maintained as part of the present holding.
That same day, ISHS also recognized the 105-year-old Hazelbaker Farm south of Grangeville as a Century operation. Anthony and Mary Noble (Ellis) Rode and their five girls (Lottie, Lou Ella, Irene, Mary and Margaret "Reta") moved from Cable, Ill., to Idaho in 1902, and in 1909 purchased the original 320 acres in 1909 for $60 per acre. In 1934, Reta and her husband, Joseph B. Hazelbaker took over the farm, and in 1974, Joseph's brothers, Dan and Fred Hazelbaker took over. Today the farm is owned by Rick L. and Lisa A. Hazelbaker and incorporates approximately 1,500 acres. Farm crops have included wheat, barley, peas and canola.