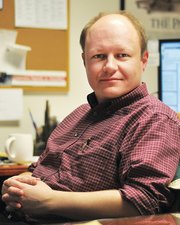 This letter is in response to David Rauzi's editorial printed on June 25 in regards to the Clearwater Economic Development Association's new initiative titled, "Putting All the Pieces Together for Success." Our region is very fortunate to have received funding through the United States Department of Agriculture's Rural Community Development Initiative. The program will allow CEDA to offer a community development training program to North-Central Idaho communities that combines formal classroom learning with "hands-on" experience. Community leaders will acquire basic project development skills. They will be introduced to resources that they may not know about that can help in the development process. 
A very important aspect of taking on a community project is to know what you do not know. Community members participating in the initiative will be able to assess when help is needed and who can provide them the assistance they need. The formal training will be in groups of three to four communities. The applied learning will be individual to each community. CEDA staff will work directly with them to develop a community project of their choosing from start to finish.  
The idea for this initiative came out of CEDA's observation of the University of Idaho's Horizons Program. The Horizons Program was focused on building community leaders. It was not focused on developing community-based projects. It was CEDA's intent to follow the Horizons Program up with a "train the trainer" program where leaders could apply themselves to a specific community project and learn the basic skills for developing it. Ideally, CEDA's initiative would have immediately followed the Horizon Program. Unfortunately, resources were not available at the time.  
One of the most challenging aspects of building community capacity is institutionalizing the learning within the community so that it can be passed down from current leaders to future leaders. For this reason, CEDA is encouraging participating cities to include their city clerk in their leadership team for our program. In small rural communities, the city clerk is often central to the development of community-based initiatives. City clerks typically stay employed in their positions for a long time. Thus, they are very good resource people. They are more likely to help build the community's long-term capacity to succeed in project development. 
All participants coming into the CEDA program bring their own experience. We hope to build on their knowledge and skill base and help them to build a network for future success. Hopefully, the CEDA program will complement the learning that leaders received through their earlier involvement in the University of Idaho's Horizons Program.
David Rauzi is right to question the validity of programs that are intended to build community capacity. He is also right when he says that success is dependent on engaged communities. CEDA believes that our pragmatic support might just make it a bit easier over the long term. Yet, it is the community that will make the difference.  
Should anyone have questions regarding CEDA's new initiative, contact me at 746-0015 or cfrei@clearwater-eda.org.