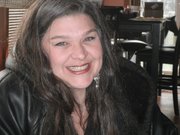 Pleasant View Baptist news:
•White Bird's Pleasant View Baptist Vacation Bible School "3D Agency" begins Monday morning, 9:30 a.m. at the church. VBS runs till noon Monday through Thursday, July 14-17. Contact Kathy Stefani 839-2220 for more info. No pre-registration is needed.
•Men's breakfast at PVBC in White Bird, this Saturday, July 12, 7-8 a.m.
WHITE BIRD — Once again, I sit here at my computer wondering what to tell you all this week. I guess I need to get out and about more, or you guys need to start shaking things up.
We made it through the 4th without burning anything down or having to bail anyone out of jail, so that was good.
The river is warming up and the beaches are finally crawling out of the river for us to play on. Summer is definitely here. We are so lucky to live here next to all our beautiful beaches. Make sure and take some time to sit on one this summer. They are a wonderful gift that He made just for us!
A little birdie did tell me that Jerry Brown has been doing some electrical work at the IOOF Hall. He has rewired and renewed, so our old building is just a little safer now. A great big thank you to you, Jerry. We all use that building and anytime someone puts an effort into keeping her alive for us, is very much appreciated.
Thank you also to the handful of people who have been watering, weeding and mowing the yard at the school. The yard has been full of kids and families just about every single day. It's so nice to have a place for families to hang out here in our little town. By the way, the legal process is still progressing in order to make the school our very own. Right now it's kind of a waiting game. When things start rolling, I'll let you know.
If there is something that needs to be announced here in the White Bird column, call me and let me know at 839-2234. I hope everyone has a great week!
Happy birthday this week to: Pat Ringsmith, Ike Bohne, Cindy Greer, Tony Carlson, Susan Alley, Tyson Stowers, Brodie Robinett, Curt Johnson, Jerry Alley, Bruce Ringsmith, Steve Blair, Carl Norton, Marina Cawley and my Marty Stewart.