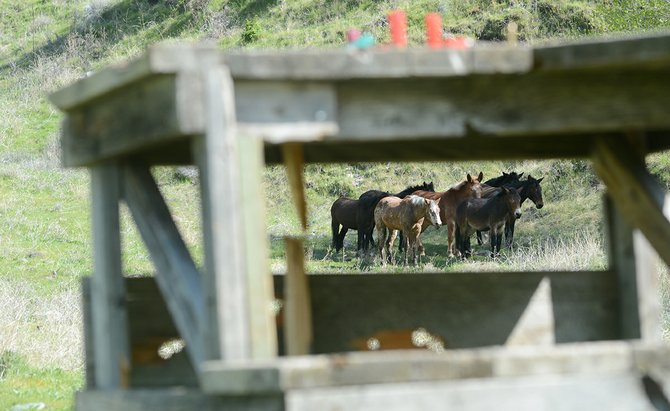 Photo by Andrew Ottoson
A shooting bench and a group of pack mules are the most prominent presence at a potential Riggins Gun Club site north of Time Zone Bridge. A complicated plan to deed the BLM ground to the club — a long-sought golden opportunity — is snagged: the Riggins Gun Club's membership has dwindled down to just Rodger Laughlin and his wife, Terry. "We're not prepared to take possession of the property," Laughlin said.
RIGGINS — Congressional Rep. Raul Labrador today, July 9, is introducing legislation to set up a permanent county-operated shooting range on about 31 acres north of Time Zone Bridge.
In an interview last Monday, July 7, Labrador described the bill he'll be asking the House Natural Resources Committee to support.
In a nutshell, the bill would move some Bureau of Land Management land into county ownership and stipulates it "shall be used only as a shooting range."
The county would be required to pay all the costs involved with acquiring the land.
Labrador's office has worked closely with the Idaho County Commissioners and Sheriff's Office, spokesman Todd Winer noted.
Specifically, Winer wrote in an e-mail:
• Idaho County has agreed to keep the conveyed land in perpetuity as a shooting range.
• Idaho County will write an ordinance declaring the Idaho County Sheriff will administer, maintain and operate the range.
• Idaho County has agreed to make all necessary road access improvements.
"We have a very good relationship with the Idaho County Commission and they approached us about it," Labrador said. "It's an idea that has been around for a while. I asked my staff, 'Why hasn't any body done something about it?' So we just went ahead and decided to draft the legislation."
Behind the scenes, the process involves "sitting down with the parties, with the federal government, with the people who are interested in the process to see if there was a solution that would work for all the parties affected," Labrador said. "They're all very excited. There are big issues we face every single day in Congress, but there are small issues we can actually help local communities with."
"Drafting the legislation is not the hard part," he added. "Getting it passed through Congress is. Having so many people on the same page about it helps."
"We've been very successful in our committee, so the question is getting the senate to act on it," Labrador said. "I believe the two senators will be introducing companion legislation in a week or so. We'll be working with them to try to get it through the Senate."
Winer noted the office "expects the senate to finally begin moving public lands bills and possibly even an omnibus public lands package in the coming months before final adjournment....[it] could be included in an omnibus public lands package."
If drafting legislation isn't the hard part, why has that step taken so long?
"It surprised me, to be honest," Labrador said.
Targeting local projects is "something our office has tried to do, when we speak to the local communities, to ask 'what are one or two things you think we can get done, even in a divided government like we have?' And they have these maybe smaller ideas that haven't been taken seriously in the past because people are looking for big solutions," Labrador said. "We just did something recently with the logging industry...they had talked to every congressman about having young people work in their family-owned logging facility – and no one had really taken it seriously. We decided to jump on that – I thought that was a no-brainer."
Winer noted "the BLM has worked very closely with Rep. Labrador's office in drafting and arriving at this solution."
UPDATE: The Spokesman-Review reports "the U.S. Bureau of Land Management is backing Idaho Congressman Raul Labrador's move to transfer 31 acres of its land in Idaho County to the county for a gun range."
UPDATE II: A quote from Rep. Labrador's press release:
"As a matter of principle, the government closest to the people is the one that governs best," Labrador said. "For years, the Idaho County Commission has been ready to install a gun range in the Riggins area, but they've been prevented from building it because of cumbersome BLM regulations. The bill I'm introducing today will transfer the appropriate BLM land to Idaho County where it will benefit Idahoans, both economically and recreationally. I am proud to introduce this bill and I will work hard to get it passed."