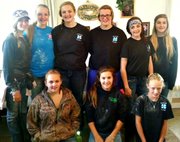 Rough Riders 4-H Club members met June 25 at the Grangeville Border Days Arena for an organizational meeting followed by a horse project meeting. Those present included president Rachel, Kortney, Bella, Micaela, Hailey, Macenzie, Colby, Kayla and Emmy. Leaders Debbie Kelley and Lisa Canaday were present along with several parents.
Horse record books are due Thursday, July 24. The horse show is July 26 and anyone participating must have attended at least six organizational meetings and have completed a demonstration. Anyone who has not done a demonstration needs to do so as soon as possible.
Following the meeting the group practiced for the horse show with their horses in the arena. A potluck meeting will be held July 16 at the arena.
More like this story