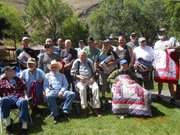 RIGGINS — VBS, Vacation Bible School, began Monday, July 7, and runs through Friday, July 11, at the Salmon River Community Church from 9 a.m. to noon daily with the tremendous Texas Team of Teens leading the way. There's still time for your kids to go Thursday and Friday. All kids from 4-year-olds through-6th graders from our community or those who are visiting from afar are invited to attend to learn Bible stories, memorize scripture verses, sing songs, do crafts, play games and eat cookies.
Junior high and high school kids are invited and encouraged to meet the Texas Teens at the SRHS football field from 6-9 p.m. in the evening for a time of games and visiting.
There will be a baptism for kids and adults alike at Shorts Bar just up the Big Salmon Road about one mile tomorrow, Thursday, July 10, following VBS, approximately 12:30 p.m. If you would like to attend, you are invited to join the celebration.
VBS will have its closing program this Friday, July 11, 11:15 a.m. at the Salmon River Community Church to share songs and stories they learned this week. The public is invited to attend.
Riggins Summer Reading Program is going strong each Tuesday in July at 1 p.m. at the Riggins City Library for kids age 2-6 with librarian Susan Hollenbeak. There are lots of reading, fun activities, refreshments and games. Your kids can come any Tuesday and enjoy the reading time with Susan.
Riggins Farmers' Market is open again tomorrow and every Thursday from 2 to 6 p.m. rain or shine at the Idaho Banana Co. in the Orchard on South Main Street.
The Idaho County Republican Committee will hold its regular monthly meeting in Riggins Tuesday, July 15, at 7 p.m. with a barbecue in Riggins City Park. Everyone is invited to attend. The committee will furnish the barbecued chicken, plates and silverware; everyone is asked to bring a side dish of a salad or dessert and lawn chairs. Marge Arnzen, Idaho County Republican Committee chairman, will share the decision of the committee to meet in different communities so more people in the county can be involved.