The Grangeville Chamber of Commerce will hold its quarterly meeting on July 24th in The Gallery, commencing at noon. Carla Wilkins, LCSC Outreach Coordinator, will inform about what programs are available and what the Outreach Center can do for business. RSVP to Jeff Kutner jeff@grangevilleidaho.com to assure proper arrangements with The Gallery.

•
The Idaho State Police commissioned 15 new troopers during a ceremony in the State Capitol Rotunda in Boise on Friday, July 11.During the ceremony the Advanced Training Class (ATC) of new troopers took the oath of office and received their campaign hat and badge. Among those commissioned was Zachary Nichols of Grangeville.
The Idaho State Police ATC is a 14-week program that all recruits must complete to become a state trooper, including those who were previously employed by another law enforcement agency and are already certified peace officers.

Upon graduation, the newly commissioned troopers will be assigned to one of six districts of ISP throughout the state to complete a field training program that lasts approximately 12 weeks. Nichols is assigned to Lewiston.
•
Thanks to Inland Cellular who gave away six Micky and the Motorcars tickets to local residents for the July 5 concert. Winners included Tynisha Kinnamin, Linda Canaday and Ray Aiken.
And you may have seen the "Selfie" T-shirt promotions. Inland Cellular will give you a free T-shirt if you are willing to take a selfie photo and post to their Facebook page — tag@inlandcellular on instagram - Tweet @inlandcellular on twitter or Hashtag at #icselfie. Two winners will be chosen to win $250 worth of IC Gear. Wow! So get your T-shirt and get to taking those selfies!
•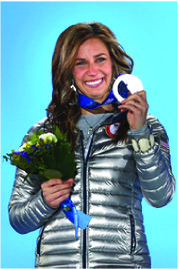 Bring a blanket or a lawn chair and listen to the amazing story of Noelle Pikus-Pace, silver medalist in women's skeleton at the 2014 Sochi Winter Olympics. Pikus-Pace will be speaking Monday, July 21, 6:30 p.m., at Pioneer (City) Park in Grangeville. The presentation is free and open to the public
Pikus-Pace was favored to win the gold medal in skeleton at the 2006 Winter Olympics, but at the U.S. Olympic trials in October 2005 an unfortunate bobsled accident resulted in a compound fracture to her lower right leg and kept her from competing in the Torino. After coming back the following year to win the World Championships by the largest margin in the history of the sport, she competed in the 2010 Winter Olympics, on a sled that her husband built, and was the top U.S finisher, taking fourth. In the summer of 2012, she decided that she would give it one last try to earn an Olympic medal, but only if their family could all travel together. And if you were watching like I was, you now she did it!
And if you didn't catch it before, know that Pikus-Pace has a brother who happens to be our very own Dr. Pikus at St. Mary's Hospital and Clinic in Cottonwood!
•
Save the date for Friday, Aug. 8, 7 p.m. The Blue Fox Theater will host the concert Too Slim and the Taildraggers. Cost is $12 advance and $15 at the door.
•
Don't forget to stop by Bud's PowerSports in Cottonwood — along U.S. Highway 95 — for its grand opening this Friday, July 18, starting at 11 a.m. and running through 7 p.m. See the new digs and have some refreshments.