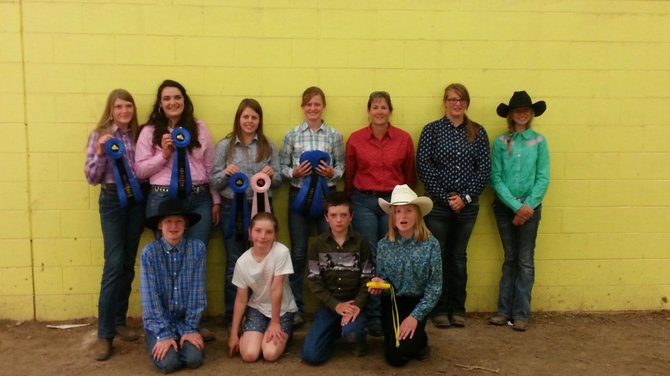 TWIN FALLS — Idaho County sent several teams and individuals to Twin Falls July 8 and 9 to compete in the State Horse Contest.

The Idaho Youth Horse contests are state level events held annually for eligible 4-H, FFA, and other Idaho youth. This is the 43rd State Horse Judging Contest, 31st State Horse Bowl Contest, the 28th State Horse Demonstration and Public Speaking Contest and the sixth State Hippology Contest.
Participants gain experience in the decision-making process by determining and ranking four horses in a class from the most desirable to the least desirable traits/performance. Participants develop speaking skills through individually presenting an oral defense of their placing.
Hippology (Greek meaning horse knowledge) contests provide a format for youth to demonstrate their level of understanding and breadth of knowledge of horse management and use. Testing formats include written exams, demonstrations of practical skills, animal evaluation, and oral presentations. As such, a variety of learning abilities and life skills are demonstrated. It is intended to be fun, friendly and a rewarding experience for the participants.
The hippology contest has four phases: quiz, station/skills, judging and team problem/presentation.
The Horse Bowl Contest is based on quick memory recall of information. Quick response, although important in the contest, may not be a true indication of a participant's knowledge of horses. This contest provides an opportunity for youth to demonstrate their knowledge of equine-related subject matter, stimulates youth achievement by providing the opportunity for a competitive learning experience in an area of their special interest, and provides an educational program that serves as an incentive to individual learning.
The following Idaho County 4-H members competed at the State Horse Contest this year:
Idaho County Horse Judging Team: Colby Canaday (12); Molly VanSteenwyk (12); Bella Klapprich (13); and Elise Shinn (12).
Idaho County Junior Horse Bowl Team: Aidan Acton (10); Tristan Yocum (12); Molly VanSteenwyk (12); Clarissa Stevens (10); and Tobie Paige Yocum (10), alternate.
Idaho County Senior Horse Bowl Team (placed 5th): Paige Lindlsey (12); Nichole Blackmer (14); Lauren Goldman (14); and Rachel Stevens (13).
Idaho County Junior Hippology Team: Clarissa Stevens (10), 3rd place junior individual; Van Steenwyk; Tristan Yocum; and Aidan Acton (10).
Idaho County Senior Hippology Team (placed 1st): Lindsley, 1st place in senior quiz, judging, station/skills, individual; Blackmer, 5th place senior individual; Goldman; and Stevens.
Idaho County Individual Demonstration: Lauren Goldman.
Idaho County Team Demonstration (placed 4th): Rachel Stevens and Clarissa Stevens.