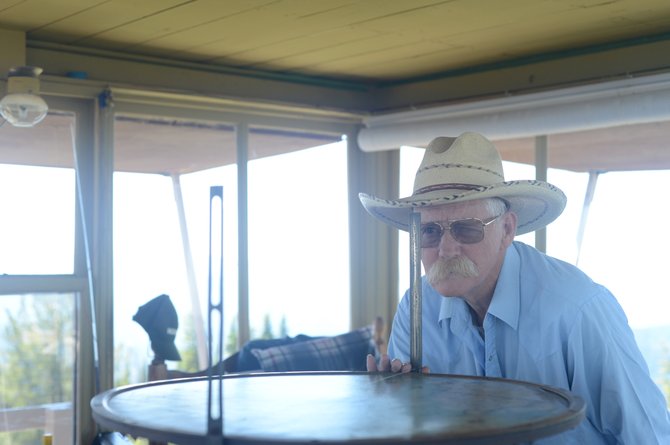 PILOT KNOB — You can see it all from here and Gary Dutcher has seen a whole lot.
"I think there's some primal thing about getting way up high and looking," Dutcher said last Thursday, July 10, at the Forest Service tower he has manned every summer going on 30 years.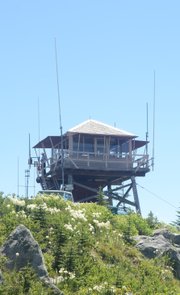 A 14-by-14 platform that stands perhaps 25 stairsteps above the 7,135-foot crest midway between Clearwater and Elk City, the Pilot Knob Lookout serves triple duty.
"It's kind of primitive, some would say, but I think it's how they all should be," Dutcher said.
Soon after the snow melts off enough for the road to open, the tower becomes a destination for forest-goers, including two groups of four — one bunch of motorcyclists, one of four-wheelers — who visited during the span of a few hours July 10.
With a bed, a kitchen setup and a couple of personal items, it's a Spartan home for Dutcher. Mainly, it's a home for the essentials of his work: the radios and the antique fire-finder, which is a high plate centered in the room so as to provide a 360-degree view of the landscape.
The fire-finder consists of a map and a sight calibrated like a compass: When Dutcher sees smoke and sets the sight on it, a wire marks out the direction, which he documents — along with as many as dozens of other details, such as the color of the plume — and radios home.
"Historically, the lookouts, when they spotted smoke, they'd go try to put it out," Dutcher said. He noted there were times when two lookouts would man towers, so one could go.
Technology has changed the way the Forest Service spots and attacks fires — a daily air patrol now plays a big part in early detection — but about a third of all fires are still spotted first by ground-based lookouts.
About 20 fires spring up in a typical year, Dutcher said, recalling a low year of "three or four."
But the signs of fire sometimes aren't obvious, so spotting sometimes involves subjective judgment calls.
"Sometimes you see a fire and they don't believe you," Dutcher said. "One time we had a patrol plane come over and say, 'Well, there's logging down there, he's seeing equipment.'"
After a couple days of back-and-forth about it, "it gets really smoking. I called and said 'I know you're sick of me calling it in and I'm sick of reporting it, but that ain't equipment."
He was right.
Dutcher became interested in lookouts when, in his youth, he heard a carpenter named Ernest Hartman talk about the summer Dutcher's dad helped build the Stillman Peak Lookout in 1933.
Dutcher's family ties to the area go deeper: "My grandad packed on the 1910 fires," he said. "Brown Creek is named after him, Ansgar Brown."
Dutcher's dad worked in the Navy shipyards during World War II and "followed the logging jobs" during Dutcher's youth.
He lived in Headquarters and Kamiah, among others.
"When I was a kid, Camp 58 [a logging operation near McComas Meadows] was running and they were hauling logs out of Stites by rail. That was 50, 60 years ago."
"The Harpster school had closed, and they bussed all the way from McAlister to Stites," Dutcher said. "I missed by one year riding horseback to Red Fir School [which was in the Tahoe area]."
He caught on with the Forest Service during the summer of 1970 as a hand on an emergency fire crew at Castle Creek.
"They hired some of us on the shot crew at Slate Creek," he said. "I had my application in and Selway called first."
He started with a trail crew.
"When it got good and dry they'd put us on fire crew," he said. "I was crew foreman the next year."
He moved up to district dispatcher, then decided to move in to the cattle business. But that move was poorly timed, he said.
Dutcher again applied for fire work in 1984, and at the lookout "that first year, it was a job," he said. "I was wanting to get back into firefighting. Fire is my biggest interest, really."
Along the way, he married Carlene, with whom he made a home above Stites, "on the same ranch where she has lived her whole life," he said. Their house dated back to 1916; in it they raised three kids — Mary, Roberta and Dick — who have gone on to raise eight grandkids. They recently built a new one: "you have to go outside to find out which way the wind's blowing."
When he's in the lookout — accompanied by his dog, Lightning, for the 11th year — only the wind bothers him.
"The kids had some times up here," he said. "They got chased by a moose, once."
He tells a story about being awakened by a moose using a guy-wire to scratch its back. But he hasn't seen a moose at Pilot Knob in a long time.
"I used to see elk all the time. Now I'm more apt to see an elk at home than I am up here," he said. "It's the wolves."
From the tower, he can point out mountains in Montana and Oregon as well as the Seven Devils, the Gospels, Buffalo Hump and the Camas Prairie, as well as the nearby spire, Pilot Rock.
"I see new logging units every year. I see dead trees and trees growing. I see dust coming up from the roads," Dutcher said.
If in three decades he hasn't seen it all from here, he has seen more than most.