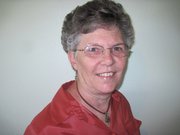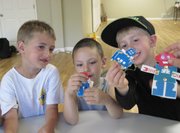 COTTONWOOD — The fun continues at Prairie Community Library with the third week of the summer reading program. Last week the theme was Robots. Stories read for this session "The World of Robots" and "Clink," were stories about robots. To finish the afternoon, the children made a miniature moving robot or a robotic hand that actually worked! Children were encouraged to continue to check out books and read, read, read! The next session will be Thursday, July 17, from 1–3 p.m. All are welcome even if you have not attended earlier sessions.

Join us for the 22nd annual Raspberry Festival on Sunday, Aug. 3, in Cottonwood! The day event features fun activities for the whole family including a pancake breakfast, grilled hamburgers, raspberry shortcake, jam and products, an arts and crafts fair, live music, a kids' carnival, quilt show, hand-crafting demos, a fun run and walk, chapel tours, museum visits and more. This is an annual benefit for the Historical Museum at St. Gertrude, a ministry of the Benedictine Sisters of Cottonwood, call 962-5063, info@myraspberryfestival.org.
Haying is winding down for most of the farmers in the area. All the rain this spring provided for a bumper crop. The warm temperatures are making the grain turn golden instead of the lush green we have seen for the past few months. Harvest is right around the corner.
The Says Phoebes in the garage and the king birds on the pole have both flown from the nest. We have another set of Phoebes that is about to fly. We have very little bug problems. All kinds of birds make a pass through the lawn every morning getting their breakfast.
Next Sunday, July 20 will be Mass in the park and the Tri-Parish picnic. Mass will begin at 10:30 a.m. Meat, buns, condiments, juice, plates, cups, napkins, etc. are provided. Bring a salad or dessert and a beverage for the potluck and your lawn chairs. Mass in Greencreek will be at 8 a.m. that day. No Mass inside the church at St. Mary's on July 20 unless it rains, then Mass will be moved to the church.