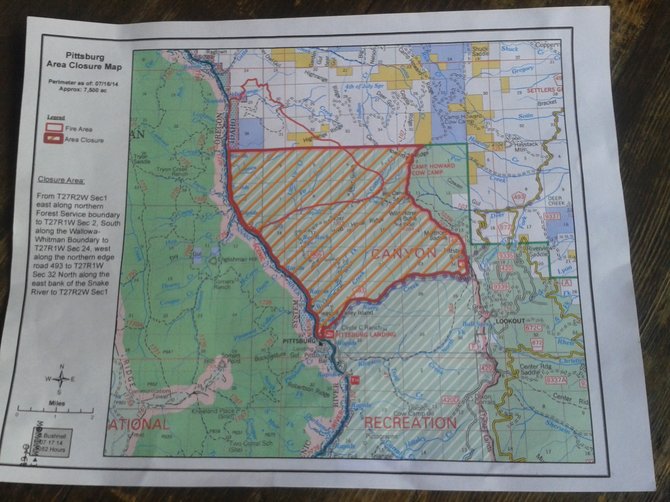 GRANGEVILLE — The team in charge of fighting the Pittsburg Fire claimed its first success Thursday afternoon, as operations "appear to be successful" on the northern edge of the area claimed by fire. But they also noted fire growth along the southwest of the burn -- estimated at 7,500 acres -- as well as potential for windy weather overnight.
"Firefighters will continue to construct and strengthen firelines around the fire perimeter," command noted. "Contingency control lines are being constructed in the event that the fire grows beyond its current perimeter. Incident management personnel are closely monitoring a forecast wind event late in the day. Northwesterly winds are expected at 15-20 miles per hour late in the afternoon, and firefighters will monitor the fire throughout the night."
The Snake River, the Pittsburg Road, Pittsburg landing, and Pittsburg campground are open; the immediate fire area is closed.
Two public meetings are scheduled to provide fire updates. On Thursday, July 17, a meeting will be held at the Oddfellows Building in White Bird at 7 p.m. (PT). On Friday, July 18, a meeting will be held at Salmon River High School in Riggins, at 7 p.m. (MT) in the Old Band Room.
Agencies involved include the Wallowa-Whitman National Forest, the Nez Perce-Clearwater National Forest, the Bureau of Land Management, the Idaho Department of Lands and Idaho County.
UPDATE: Thursday night in White Bird, command detailed the closure of Hells Canyon National Recreation Area lands north of Forest Road 493; the road and the Pittsburg campground remain open, but fire continues to burn in the Big Canyon Creek drainage; windy conditions could undermine containment efforts underway within the southern part of the closure area which would pose safety risks to anyone hiking in the closure area; hence the closure. The burn area -- per official estimate as of 7 p.m. July 17 -- was approximately 8,000 acres as fire claimed about 500 acres during the day. An Idaho Department of Lands representative described the firefighting effort underway on the northern front as "full suppression."