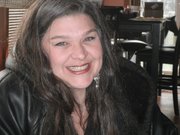 WHITE BIRD — I'm writing this week, just to make sure that everyone knows that White Bird is still here. There hasn't been a whole lot going on. The tomatoes are turning red, the fruit trees are full of nummy goodness, hay is being hauled, the sun is still rising every morning and God continues to bless us every day.
It's a shame that the other side of the mountain here is on fire. Hopefully Mother Nature has just about got it out by the time this paper comes out. Several firefighters came into the store and told us that they don't fight the fire at night, they just watch it and monitor it. Then another group of people draw up maps and print them out, drive around the entire county every day and hand them out to everyone, to reassure us that they are really on top of it. There's a huge "incident base" set up at the White Bird rodeo grounds. They have showers, tents and all the amenities the firefighters may need. I'm sure the BLM and the Forest Service and all the other government agencies involved are spending your money wisely. A great big thank you to all of them for helping protect our land.
The summer is flying by. The Salmon River has been flooded by rafters every day of the week. The Swiftwater RV Park and Killgore Adventures has been jam-packed full of families camping, fishing, boating and enjoying our river. All of our businesses here in town have enjoyed all the tourists who have stopped in, shared their stories and supported our businesses.
Make sure and take some time to go and baptize yourselves in our river before the summer is over. I hope everyone has a good week, and remember, sometimes no news is good news.
Happy birthday this week to: Bo Marek, Misty Willford, Larry Johnson, Kurt Killgore, Pat Hurt, Kathy and her daughter Kara Stefani, Toby Hagen, McKenna Eidal, Alex Cawley, Kolbi Bashaw, Ruth Trivett and Rance Moore.