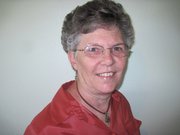 COTTONWOOD — Prairie Community Library summer reading participants joined in with volunteers this week to explore Far Out Space Fun! After the welcome was given, all of the children gathered to play a solar system info game. Different children read about the planets and then asked specific questions about the next mystery planet. The child with that mystery planet then stood and read their part, asked a question and the game continued until all eight planets, the dwarf planet and the sun had been found. A huge solar system on the floor helped them learn about the orbits around the sun. The children went on a planet walk to show the distances between the objects in the solar system. Beginning at the site of the old railroad tracks above the hospital, all the children with the volunteers began the "planet walk." The sun flag was set down. The children then took 10 giant steps forward along the old tracks to reach the first planet, Mercury! Each step (one yard) represented 3,600,000 miles in space. They continued on another 282 steps to Neptune, planted Neptune's flag, and then finished with 250 steps to the dwarf planet of Pluto! The "astronauts" had walked more than half a mile, Pluto being 3,699,000,000 miles from the moon. Back at the library, Steve Halligan read, "The Magic School Bus Lost in Space." All were encouraged to continue to check out books and read this next week. Be sure to come and check out the exciting program, from 1–3 p.m. at the Prairie Community Library. Hope to see you there! Only two more weeks!
It's not too late to sign up for the KC annual golf tournament Saturday, July 26, at the Grangeville Country Club. Proceeds go for good causes. Contact Ryan Uhlenkott at 791-0492.
It was impressive to see all the police vehicles in Greencreek to honor the memory of Guy Arnzen at his funeral on Sunday, July 20. There was also an honor guard and two men with bagpipes to play taps at the cemetery. Those people really come together on something like this.
I had an enjoyable day on Saturday going to watch my kids in the Dirty Dash, a mud run, in Spokane. The grandkids especially had fun playing in the mud and not getting into trouble. It was a fund-raiser for a children's hospital in Spokane.