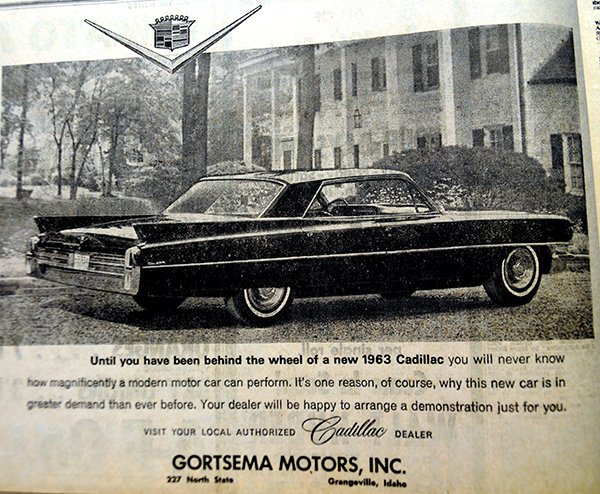 10 YEARS AGO
JULY 21, 2004
•Air Force Reserve Major Garin L. Andrews, a 1982 graduate of Grangeville High School recently left for active duty in Afghanistan. He is the son of Wesley and Joyce Andrews, formerly of Grangeville.
20 YEARS AGO
JULY 20, 1994
•The Cottonwood Lions Club men's and women's softball tournaments were successes, organizers said. The women's tournament saw 16 teams competing. Twenty teams competed in the men's division.
30 YEARS AGO
JULY 25, 1984
•Bryan S. Lankford, the younger of two Texas brothers convicted of first degree murder here, has filed suits in Second District Court asking the court to set him free due to his "mental illness."
•Grangeville attorney Paul G. Eimers was presented a Certificate of Merit from the Idaho State Bar at its annual meeting last week in Sun Valley.
40 YEARS AGO
JULY 24, 1974
•It was standing room only along the Little Salmon River this past week as fishermen braved the rain and cool weather while trying to come up with a salmon from the river. The season closes at the end of this month and the fishermen are not letting a little adverse weather dampen their spirits.
50 YEARS AGO
JULY 23, 1964
•Glenn and Sue Ailor, who have sold the Ailor Mortuary and flower shop to the Robert Hansens and will be moving to Lewiston Orchards, will have an auction of surplus items.
•Bank of Central Idaho drive-in window opened for business. Mrs. John Rockwell was the first to take advantage of the bank's new service.
60 YEARS AGO
JULY 22, 1954
•Petitions seeking cooperation of the U.S. Forest Service and the Bureau of Public Roads in widening the Grangeville-Elk City highway will be circulated by the Grangeville Chamber of Commerce.
70 YEARS AGO
JULY 27, 1944
•Weston Henry, collector of internal revenue, calls attention of car owners that their federal car use stamp must be attached to the windshield of each car or truck in use.
80 YEARS AGO
JULY 19, 1934
•Martin Snodgrass reports a yield of 56 bushels per acre of wheat from a 17-acre field northeast of town.
•Paul G. Eimers, son of Mr. and Mrs. J.G. Eimers, was recommended for admission to the Idaho Bar by the board of examiners of the Idaho Bar Association in session at McCall last week.
90 YEARS AGO
JULY 24, 1924
•Following a clue given by an old prospector to the location of a secret mine, reported to be fabulously rich in placer gold, Tom Myers of Weiser and Frank Laib of New Meadows believe they have rediscovered the most precious jewel in all Idaho County's mines. William Piper who died about a year ago at Helix, Ore., at the age of 100, was the original prospector. Piper and his associates drilled a 600-foot tunnel to drain Gold Lake.
100 YEARS AGO
JULY 23, 1914
•KAMIAH – Andy Dahl who resides near old Columbus, after hauling water for 12 years, discovered water at a depth of 29 feet on his property.
110 YEARS AGO
JULY 20, 1904
•Opals are being mined on Doumecq plains near the head of Center Creek. The gems are somewhat scattered through the rock.
•Movement has been started and a petition will soon be circulated asking business houses to close on Sunday. Experience has demonstrated that it is better for people who labor or are engaged in business to have one day in seven for rest and relaxation of mind and body.
120 YEARS AGO
JULY 20, 1894
•There were 27 cougar scalps at $5 each, 27 coyotes at $1 and 2,478 squirrels at 2 cents apiece presented to the county commissioners for bounty. The whole amounted to $254.56.